Take a walk through Mactaquac's history
July 29 2015, 11:18 AM
A few weeks ago, we opened the doors on our new visitors' centre at the Mactaquac Generating Station. The new centre helps us tell the story of the Station, the river and the people who live along the water. When you walk into the new centre, you'll find big, bright wall panels full of pictures, graphics and maps that help tell these stories.
The story so far
Long before we built the station, the Maliseet people lived along the banks of the Saint John River. They call it the Wolastoq - the beautiful and bountiful river. It was their source of food, transportation and a meeting place.
We worked closely with the Kingsclear First Nation to translate their story into Maliseet. We're honoured to help preserve a part of their culture and history through this project, especially since there are only about 650 Maliseet speakers alive today.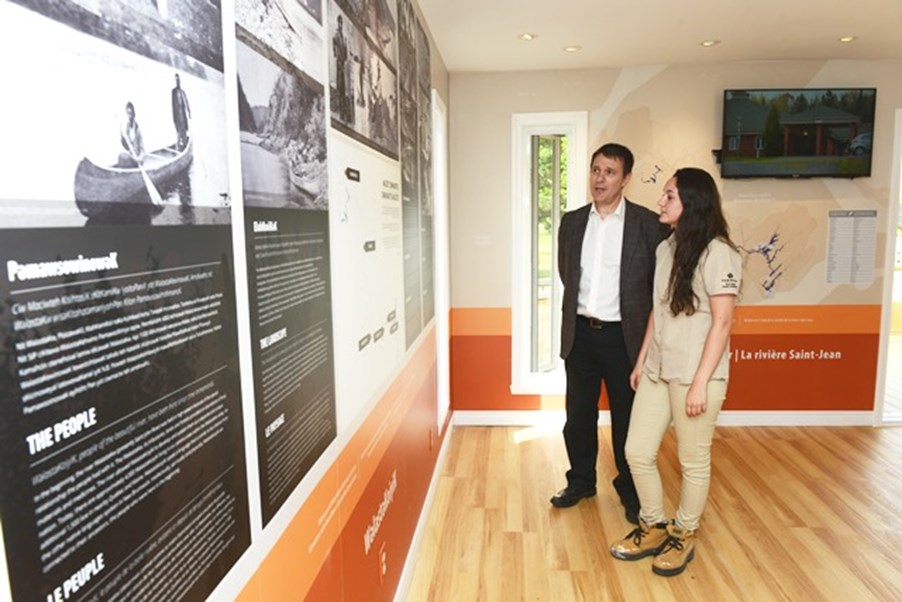 After the Second World War, the demand for electricity quickly grew in New Brunswick. This meant we had to build another source of electricity- The Mactaquac Generating Station.
The construction of the new Station brought thousands of workers to the area. It also saw the loss and birth of several communities near the river. Areas that came out of the Station's construction were the The Town of Nackawic, the Mactaquac Provincial Park and Kings Landing Historical Settlement. These are all favorite spots for tourists and New Brunswickers to visit. 
The future
A few years ago, we discovered problems with concrete expansion in the spillways and powerhouse. This problem is called Alkali-Aggregate Reaction (AAR).
NB Power is now looking at three options for the future of the dam: Repower, Retain the head pond and river restoration. We are conducting several studies to find out how the options might impact New Brunswickers and the environment. We will choose a path forward for the station in 2016.
Have you seen the new centre yet?
Our bilingual tour guides invite everyone to the station every day from 9 a.m. to 5 p.m. until Labour Day. Tours are available without an appointment and group bookings can be made by calling 462-3886. All you need to bring are closed-toe shoes and a curious mind. The tours aren't recommended for children under 6 years.