National Electricity Month in New Brunswick
June 3 2015, 08:53 AM

It's National Electricity Month!


Every June, members of the Canadian Electricity Association (CEA) host or take part in events across Canada to put a focus on all facets of the electricity system to help Canadians learn more about the value it can bring to their everyday lives.
We love the idea of opening our doors and getting into the community to talk about energy and the exciting ways we're working to make New Brunswick's energy future better. It's also a great chance to hear any questions you have about energy in your life.
For National Electricity Month this year, we're talking about clean, sustainable energy- both what it looks like now and what it could look like in the future.
Energy conservation plays big role in that, which is why we're hosting our first Smart Habits event at the Fredericton Boyce Farmers Market in Fredericton on June 13. Our education partner, The Gaia Project will join us with their Mobile Energy Centre, a four-meter long trailer decked out with interactive learning tools such as a bicycle generator, a weather station and wind turbines. We'll also have activities for kids and one of our electric vehicles on site.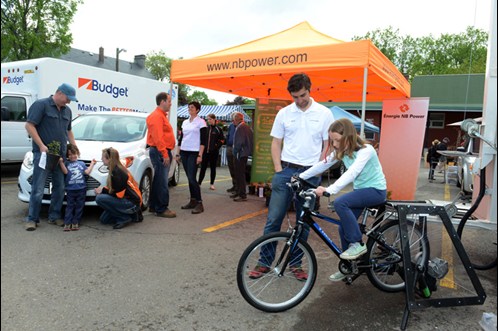 We're also supporting the E-mazing Race as it rolls through New Brunswick this month. It's a fun and sustainable way for electric vehicle drivers to see Canada this summer. Any participating driver who charges up at an NB Power charging station will receive bonus points on their tour of New Brunswick.
On June 25, we're opening up the doors at the Mactaquac Generating Station for the public to take one of our new tours of the Station to see how hydroelectricity works and learn more about the history and potential future for the station.
We'll also be announcing a new program this month designed to help you save money and energy on your bills. Keep your eyes on our Twitter and Facebook sites for more on that. Make sure to follow or like us to keep up to date on all the latest updates, events and activities throughout National Electricity Month.



How are you going to celebrate National Electricity Month? Let us know in the comments below.