Know your trees: NB Power's Tree Planting Guide
May 5 2015, 08:55 AM

Trees make our communities and properties beautiful. Planting trees can also add value to your property while increasing your curb appeal.
There are many different reasons to plant trees and shrubs on your property. Use this guide to make sure your trees are right for your needs.
Planting the right tree in the right place
Planting the right tree in the right place is not only important for making your property more beautiful, but it also helps prevent costly maintenance trimming, damage to your home and power disruptions
Did you know planting trees in the right places near your home can also improve your home's energy efficiency? Planting evergreens to the north and west of your house can shield it from cold winter winds. In the summer, you can also reduce your cooling needs if you plant deciduous trees on the west and southwest sides. Deciduous trees help keep the hot sun out in the summer and let it in during colder winter months.
Where to plant
Before you consider where to plant, remember to look up, down and around to see if the area you want to put that new tree isn't too close to any of NB Power's lines or equipment. Here are some guidelines to help you figure out which tree or shrub you should plant in certain areas of your yard.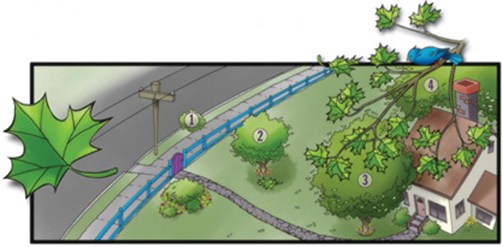 Site 1 The area directly beneath the power line and extending 4.5 metres in any direction is best suited for low, slow growing shrubs that will never exceed 4.5 metres in height. Nothing should be planted within 3 metres of poles, guy wires or other structures as this could affect maintenance work and inspections.
Site 2 Planting between 4.5 metres and 10.5 metres should be limited to small trees that will not grow higher than 9 metres or any of the shrubs you may plant in Site 1.
Site 3 Medium-sized trees may be planted 10.5 metres to 13.5 metres from the centre of the line. This includes trees that grow to a height of 21 metres, or small trees and shrubs planted in Sites 1 and 2.
Site 4 Large trees that may grow more than 21 metres tall should not be planted within 13.5 metres of the power line.
Here are a few varieties of shrubs and trees recommended by Landscape New Brunswick for planting in these areas: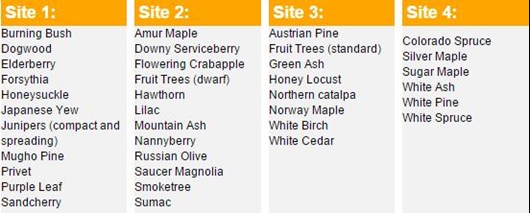 Places to avoid
Never plant any trees or climbing vines directly under power lines or any public utility lines or equipment. Consider smaller, slow-growing shrubs instead.
Avoid planting next to buildings, sidewalks, roadways, street lights or signs.


Ensure a minimum of

1.5 metre

space between the edges of fully grown plants, shrubs or trees and low-level NB Power equipment (transformers, switch-mount cabinets, or tops of underground vaults) to ensure it can be serviced safely.




Safety
Make sure you call us at least 2 days before you dig. Someone from NB Power will visit your site and mark the location of any underground lines. These lines can cause serious injury if you encounter them.
Ask the experts
Consult with experts at your local nursery or the folks at Landscape New Brunswick to find out more about the tree or shrub you're thinking about planting. They will know how large a plant or tree will reach at maturity and which type of plant is best suited for your needs.