Weekend warriors: Staying safe while working near electricity
May 14 2015, 11:49 AM
The coming long weekend can be a perfect time to get outside and bring your yard back to life after winter. Whether you're planning on pruning shrubs, cleaning out gutters or getting your cottage ready for the summer, your work could put you near power lines.
Be sure to look up and around for power lines before starting any job around your home this weekend. These lines have the power to injure or even kill. Keeping this in mind will help you and your family have a productive, fun and safe long weekend.
Opening up the cottage
If you're heading out to get your cottage ready for the summer ahead, make sure to check first to see if any power lines have fallen or become damaged during the winter months. If you see a downed or damaged line, or a tree leaning or fallen onto the line, keep a safe distance and call us at 1 800 663 6272 to disconnect the power and fix the issue.
Never touch or approach trees in contact with power lines.
Treat all downed lines as if they were energized. Stay at least 10m away (about the length of a bus) from them and anything they may be touching including puddles of water and fences.
Never attempt to repair damaged power lines or remove tree limbs from power lines.
Lines are intact, but water got into your cottage?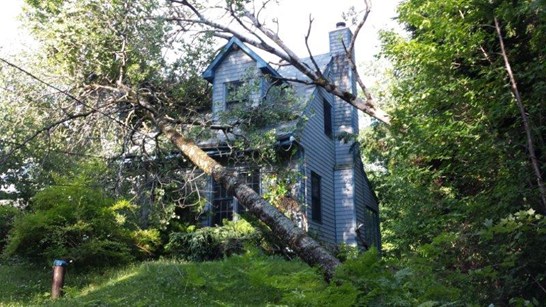 Use this checklist:
Check to see if your electrical panel has been damaged. If it's damaged, you must get it replaced.
If your water heater has been damaged by water, contact us and we will get a specialist out to assess.
Call us for an emergency disconnect so the equipment can be replaced safely.
You must have an electrical inspector from the Department of Public Safety's Technical Inspection Services, or licensed electrician inspect your panel and wiring and tell you what needs to be done before you can be reconnected.
The inspector or electrician will fill out necessary permits, complete work and once they've decided it is up to code they will attach a tag to your meter and call NB Power to reconnect you to the grid.
Backyard cleanup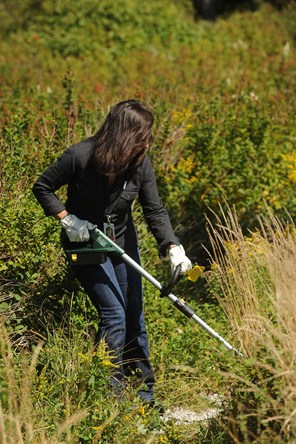 Need to get up and give those gutters a good cleaning? Make sure your ladder is the right height for you to reach your work area comfortably, and safely. If there are power lines nearby, place your ladder at least 3 feet away from the line. If your ladder is too close, electrical arcing can occur, which could result in serious injury for you if you are on the ladder. Here's an example of what that looks like.
If you need to prune trees near a power line, call us first. If a tree is touching a line, don't attempt to remove or prune it yourself.
Need a little extra length to use your power tools? Be sure to check your cords for cracks that may expose a wire- this can cause serious shock. If you're heading out to the hardware store to buy a new cord for your backyard project, make sure it's CSA approved for outdoor conditions.
Before starting any big construction projects, call us to let us know. We can come assess the area, de-energize wires, locate underground wires and help make your work site as safe as possible.
What else do you do to stay safe while working on the long weekend? Let us know in the comment section below.