Breaking up isn't hard to do, when it's with old, inefficient, incandescent lighting
November 9 2015, 11:02 AM
Are you in the market for new light bulbs? Perhaps you're ready to "break up" with old lighting technology and replace your incandescent bulbs with their newer, much more energy efficient counterpart: the LED bulb. Right now is a great time to make the switch! NB Power is currently offering instant rebates on LEDs (along with programmable thermostats, showerheads, refrigerators, and clothes washers) until the end of November at participating stores.
Here are a couple of things to keep in mind when shopping for LED bulbs:


LED bulbs are available in a variety of shapes and sizes, for any location. You can even find dimmable bulbs, but you may need to switch out your wall dimmer switch for one that is compatible with LEDs.
When selecting a bulb for brightness, look for lumens, not watts. ENERGY STAR bulbs will provide you with the same brightness (lumens) with less energy (watts). Use the chart below to figure out how many lumens you need to match the brightness of the old incandescent bulb.
|  Incandescent Bulb (Watts) | ENERGY STAR Bulb Brightness (minimum lumens) |
| --- | --- |
| 40 | 450 |
| 60 | 800 |
| 75 | 1100 |
| 100 | 1600 |
| 150 | 2600 |
Another factor to take into consideration is the light color or appearance. LED bulbs are available in a wide range of colours and they will be matched to a temperature on the Kelvin scale. A bulb with a lower K rating will appear warmer or give off yellowish light, while a higher K will be a cooler, bluer light. Choose a 2700K LED bulb for a warm/soft light equivalent to a standard incandescent bulb.
Finally, always check the packaging for proper use.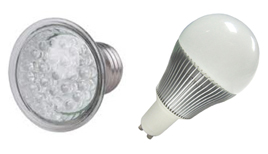 Right now, you can find LED lights for as low as $3-$4 a bulb at some participating retailers! For a light that - depending on usage - may last you decades, that is pretty darn good value! Visit smarthabits.ca to find a store near you.
Have you made the switch already? What do you like best about LED lights? Tell us about it in the comments below.