Hitting the streets for 25th Harvest Jazz and Blues
September 8 2015, 17:41 PM
We're excited to be back on Queen Street with Siemens Canada and the Gaia Project to celebrate the 25th year of Fredericton's Harvest Jazz and Blues festival from September 18-20. It's always a great opportunity for us connect with you and show off some of the amazing, innovative projects we're working on to help you save energy and money.
Take a walk through the home of the future and learn more about some exciting new energy efficiency products. Snap a selfie with our Smart Habits heroes, Wattson and Volt and upload them to your favorite social media channel with the hashtag #smarthabits for a chance to win tickets to Harvest Jazz and Blues shows.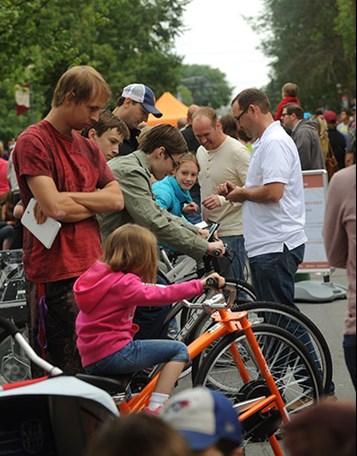 After taking the tour, fill out one of our ballots for a chance to win an Evo electric bike thanks to our friends at the Radical Edge. We'll be drawing a winner for the bike on Sunday.
Speaking of sustainable transportation, be sure to check out Atlantic Canada's first electric car show and test drive from 12-5pm on Saturday. You'll be able to find out what it's like to own and drive one of these cars from electric vehicle (EV) owners from across the province- yes, this includes a Tesla. If you like what you hear, you can hop into some EV's and go for a spin around the block, thanks to some of the certified New Brunswick electric car dealers. Remember to bring your driver's license.
Our Smart Grid partners, Siemens Canada will help you generate virtual electricity with the power of your mind with Mind2Motion. Here, you can measure your brain frequency - the harder you concentrate, the faster the wind turbine on the screen spins, actually showing RPM.
Our education partner, The Gaia Project will demonstrate its custom-built traveling lab designed to provide hands-on learning around renewable energy. The Mobile Energy Centre is equipped with two solar panels - one for heat and one for electricity, a wind turbine, a hydro demonstration and bike generator. You can also take their pedal power challenge to see how much energy you can produce.
There's so much happening right here in New Brunswick. The future of Electricity looks a lot like this!