My EV story: David Alston
September 16 2015, 10:41 AM
On Saturday, September 19, New Brunswick electric vehicle owners will show their cars off on Queen Street in Fredericton as part of our electric car show during the Harvest Jazz and Blues festival. One of those car owners is David Alston, a local tech entrepreneur and mentor.
Here's David's EV story.
When I first took a test drive of the Volt at the South by Southwest (SXSW) conference in Austin, Texas back in March of 2011 I fell in love with its tech and its promise to reduce the carbon footprint of driving. 
It was a chance for Chevy to showcase it's green offering to thousands of gadget loving, social media types that would hopefully gladly share their experience on Facebook, Twitter and the like. I was impressed with the approach and the car. So much so that I wanted to know how to get my hands on the first one shipped to New Brunswick when it would roll out in Canada the following year. 
With deposit in hand, I marched down to my local Chevrolet dealer and got in the queue. But it's interesting how much time and branding can have an effect on you. 
With the 18-month wait, I gradually started to forget the experience and I started to worry about my choice. You see, my previous experience with General Motors cars had been driving some 10 year old Olds and Buicks back in my final years at university. Those cars had been on their last legs, to be fair, but the experience had pushed me hard toward buying Japanese brands as soon as I graduated, and I hadn't wavered from that choice for over 20 years. 
I eventually caved and retrieved my deposit. I chickened out.
But it happened that a couple of colleagues of mine had also placed themselves in the queue and were the first in our area to receive a shiny new blue Volt. They drove it to and from work with pride, bragging that after months of ownership they still had the same gas in the gas tank as when they purchased it - they were nearly able to drive solely on electric charges! Now that's an awesome stat. 
My interest peaked once again and I asked if they minded if I could take it for a test drive after work one day. The feeling came back and I was sold.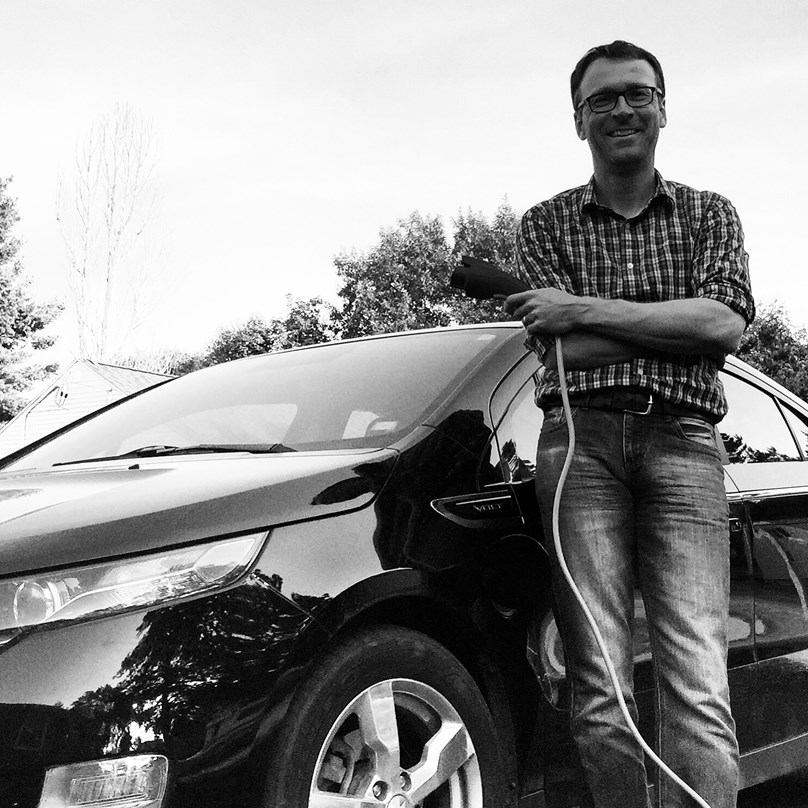 At the time, the Canadian dollar was trading at par with the US so I decided I'd look for a one year old Volt in the US and import it. I still remember seeing it for the first time all shined up in the bay of World Class Auto. 
With an electric engine, the acceleration is instant and smooth and all I heard was the tires on the road as we turned on to the road for the premier test drive. This is a car built solid and with a suspension that seems to float on air and the trim inside was as nice as any luxury vehicle on the market. I was very pleased with my new mode of transportation.
While the Volt comes with a regular 110V charger that would easily fully charge the vehicle overnight I decided to purchase a 220V charger from Sun Country Highway for around $500 and have my local electrician install it in my garage- it took maybe 15 minutes to install. I wanted to have the option of a 4-hour quick charge as we make regular trips to and from the city to pick up and drop off the kids for their activities etc...  We can sometimes even drive to and from town twice on a single charge if we watch our speeds and acceleration and take advantage of the regenerative braking. 
Keep in mind, a single charge takes 10 kw/h of power or costs roughly about $1.12 at today's power rates. I can go for about 55 to 70 kms on a charge depending on the terrain during the summer and 35 to 50 kms in the winter - cold affects batteries in the winter and these cars also use more power for the heaters. Either way, I figure that for a $1.12 I am generally going at least 3 times the distance of a typical gas only car and paying 3 times less!
What's also cool is that electric engines don't need oil changes. Only the backup gas powered motor/generator built into it does, so I generally only get one oil change per year.  
The Volt also runs on gas when the charge of the batteries runs out. The switch over is not noticeable other than the quiet whir of the generator now running in the background. This feature extends the range of the Volt by another 550 kms. Yes, that means you drive the Volt just like any other vehicle but with the option of driving electric when it's charged up. 
We've done return trips to New Hampshire, New York and PEI in the Volt, of course mostly using the gas engine. 
It's what I love about the Volt - it's as economical as you can get for commuting but still has all the stuff of a regular car for road trips.
Meet David and other electric vehicle owners from 12-5pm during the car show on Queen Street in Fredericton. You can also find out what it's like to drive an electric vehicle during the EV test drive from 12-pm as well.
If you can't make it, but have questions about EV's for David, you can find him on Twitter @davidalston.