The Smith home : a net zero, net metered house in Sackville, NB
April 14 2016, 12:36 PM
Blaine and Heather Smith had a vision when they searched for the perfect spot to build their home near Sackville, NB, back in 1988. The vision was of a sun-filled home with a very small energy footprint. To realize this dream, they chose a house plan with many east and south facing windows to passively heat the home. They installed high levels of insulation throughout and made it air-tight by carefully considering all the construction details to make sure the home would have very low air leakage rates.  
Fast forward to 2012 when the Smiths decided to take this vision one step further and turned their home "net zero." First Heather and Blaine installed:
an air source heat pump;
a solar hot water system;
a drain water heat recovery system
added R-40 insulation in the ceiling
 The cherry on top – of the home, in this case- was the array of solar panels set up on the roof to offset their electricity consumption.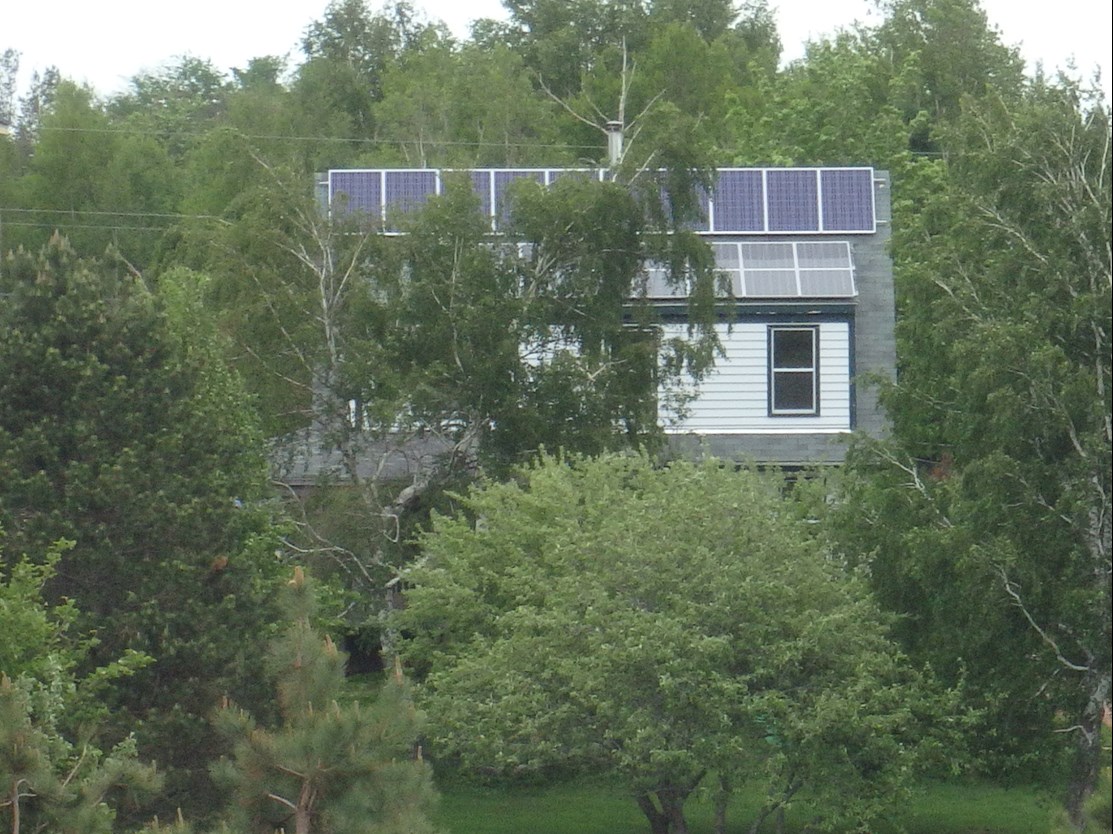 Thanks to the careful attention to detail and energy efficiency in the construction of the home, the Smiths' pre-upgrade EnerGuide rating was not bad at 78, but the upgrades resulted in an impressive post-upgrade assessment rating of 90. Orienting their home for sun-filled rooms back in 1988 also paid off -- that decision made their home 'solar ready.' It was well positioned to add solar panels and generate energy onsite.
After installing 24 Solar World SW235 Mono V2.0 panels, combining for a total of 5.6 kilowatts capacity, the home now produces as much energy as it uses from the solar panels (on a yearly basis.) This makes it a net zero home. In addition to being net zero, the home is net metered with NB Power for the times when the panels don't produce enough energy to meet current demand. Credits accumulate for the homeowners when a surplus of power is generated and put back on the grid.
The Smiths were smart to take a whole home approach and to carry out energy efficient upgrades first. It lowered their baseline energy use, making it easier for their solar panel system to meet their energy demands in the run of an average day. By choosing to net-meter with NB Power, they could size the solar system to meet their average daily usage, rather than on a peak energy use day.
For the Smiths, that's the great benefit to being "grid tied" --their solar panel system is sized for average usage, rather than their peak.
 "We like knowing that 100 per cent of the excess power we produce is used within our neighbourhood," the Smiths said. "Aside from the money saved, it is satisfying to do what you can as an individual towards the reduction of greenhouse gas emissions
"Our experience with the net metering program has raised our awareness of our energy consumption and the potential to generate electricity through the seasons," said Blaine and Heather Smith. "NB Power and our installer (Fundy Solar) led us through the process." 
"We all use energy daily," said Heather. "Getting started with meeting your own energy needs is exciting and empowering."
Want to learn more about the Smith home? Read the Case Study which details their journey and decisions in making their home net zero here.
Would you consider generating wind or solar power at your home and net metering?  Tell us about it below.