A day in the life of an NB Power energy marketer
July 14 2016, 13:24 PM
This is the first post in our new "A day in the life of…" series, which aims to showcase the diverse career opportunities at NB Power and the employees who thrive in these jobs.
As the morning light in downtown Fredericton starts to bleed through the windows of NB Power's energy marketing desk, Andrew Robinson quietly sets up his work station for the day, mind already reeling with the day's tasks and figures.
Once his system is up and running, Andrew's day is off to a fast start. All the marketing desk employees gather for their morning meeting to discuss the factors of the day in order to keep NB Power's electricity costs low. These factors can range from water flows, world conditions, weather, fuel prices and business opportunities.
NB Power's Energy Marketing Desk buys and sells electricity in markets outside of New Brunswick, moment by moment, 24/7- just like the stock market. Andrew and his coworkers in the marketing desk analyze the system load forecast, information on NB Power's generation assets and external factors to determine whether it's cheaper to buy or sell electricity that day.
"We plan for any generator outages that are scheduled during the next few days.  Once all this information is collected you need to identify any shortages or surpluses of generation for the next day," he said." Then determine the marginal cost of your generation and identify if there is any way to reduce that cost through purchasing or if you can sell any excess generation for a profit."
Sometimes it might be cheaper for NB Power to buy electricity for an hour than it is to generate, while other times it's more profitable to sell or transmit electricity for other companies. Any electricity sold to utilities outside the province goes into subsidizing rates for New Brunswickers.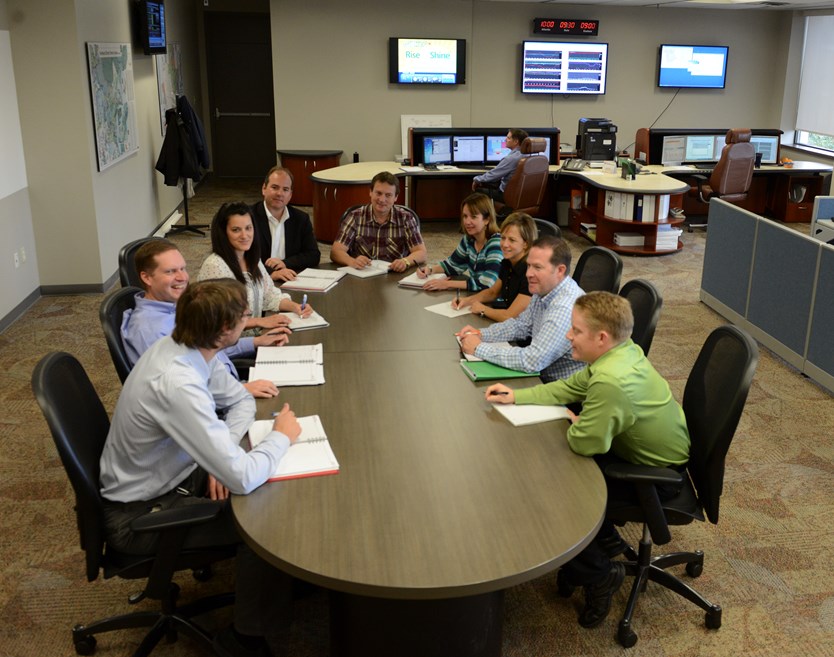 "The activities in the energy marketing desk affect the bottom line of other activities in NB Power," said Andrew. "The decisions we make have a direct correlation with buying and/ or selling energy."
For the fiscal year 2015/16 the New Brunswick Energy Marketing Corporation generated $83.8 Million in gross margin all of which is used to lower electricity rates.
Andrew started working with NB Power while he was in his fifth year of university at the University of New Brunswick. He has worked for the company for eighteen years. He knows his duties as an energy marketer are critical for the well-being of the company. He has to meet several deadlines and manage time constraints every day.
"I love my job," he said. "Every day is a new day and a new opportunity. I like making decisions and being responsible for my actions. This is what I most like about working in the energy marketing desk."
The desk has employees planning and analyzing solutions in this economic nerve centre of NB Power 24 hours a day, every day of the year. Employees like Andrew make sure to take advantage of the market prices of energy, whether those prices increase or decrease.
"We always make sure to take advantage of those changes," he said. "The market is constantly changing and here in the marketing desk we're always learning and adapting to that change."