Insulation upgrades result in $4,000/year savings for 100-year-old NB home
June 24 2016, 09:19 AM
It was spring of 2015 when Kyle Boucher bought his 100-year-old Hillsborough home, and though the weather was mild at the time, it wasn't long before he realized he would need to invest in some energy efficiency upgrades.
"You could stand in the attic and look straight down to the basement," he says. There wasn't much – if any - insulation to be found throughout the two-story home.
That fall, knowing that incentives were available through NB Power's Home Insulation Energy Savings Program, Kyle registered for the program and had a pre-upgrade evaluation completed on his home.
During a two hour visit to Kyle's home, an energy advisor measured and documented insulation levels in the basement, attic and walls, and determined air leakage rates and priority areas with a blower door test.
Armed with the advice and recommendations of his home's personalized energy evaluation, Kyle proceeded to spray foam the attic, basement walls and header and main walls in the home. By insulating with spray foam, Kyle simultaneously improved the home's air tightness by 26%. He also swapped his home heating systems from wood and oil to a heat pump.
Kyle spent approximately $8,500 insulating his home and he received an incentive from NB Power for $6,200. Thanks to the added insulation and air-sealing in Kyle's home, the estimated annual energy savings are approximately $4,000 each year, giving him a payback of less than one year.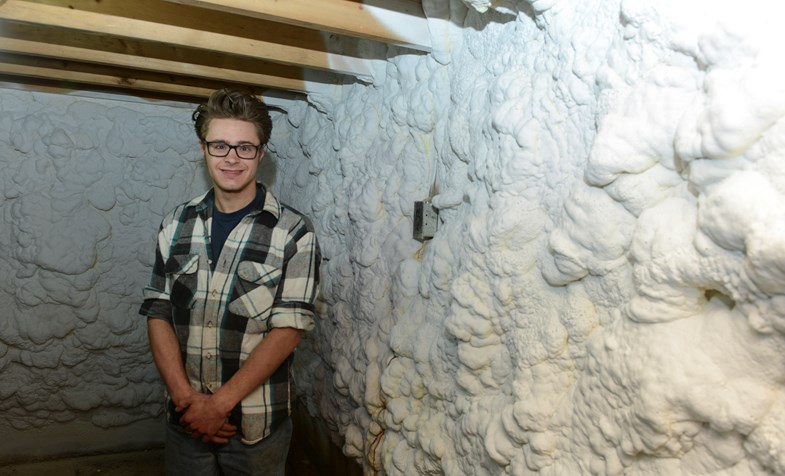 Participants save an average of $1000 on their annual electricity bill and receive an average of $1960 back in incentive for insulation and air sealing upgrades.
With the savings, Kyle plans to continue to invest in his home's energy efficiency, starting with a heat recovery ventilation system installation.
"Without the incentives, I wouldn't have been able to do the upgrades, or add the right amount of insulation to the house," Kyle says. "If I could say anything to other New Brunswickers, it is to get going and just do it. It is a really great opportunity to get help from NB Power to add insulation to your home, which is something that almost everyone can benefit from."