Keeping safe around Hydro facilities
June 2 2016, 14:41 PM
Did you know how quickly the water flows change above and below NB Power's 7 hydro facilities?
As electricity demands change for the province, during peak times of the day dam gates are opened and closed regularly. These changes can result in rapid water level and flow changes above and below dam structures.
Water in the head ponds above hydro dams and stations and the waters directly below them are particularly dangerous. Fast-moving water coming from the station or dam creates dangerous turbulence and strong undercurrents.
We work to ensure all safety measures are in place so people understand the risk involved in getting too close to a hydro dam. 
All of our hydro stations operate remotely from the Mactaquac Generating Station. These facilities can release water at any time, any day of the year. This means that calm waters can suddenly turn into rapids with strong undertows that can easily pull you under water.
Areas inside warning signs, buoys and booms are extremely dangerous.

Here's an example of how quickly the water can change- this is the same spot near one of our facilities- just a few minutes apart.
Remotely operated gates at the dam release large volumes of water that could leave you stranded, swamp your boat or put in the undertow of water current.
Above a dam, the intake currents are strong. This is why we're installing additional safety measures, such as booms (large yellow barrier hooked to anchors) above the Mactaquac dam to keep boaters and swimmers safe from entering the fast currents of the dam entry points.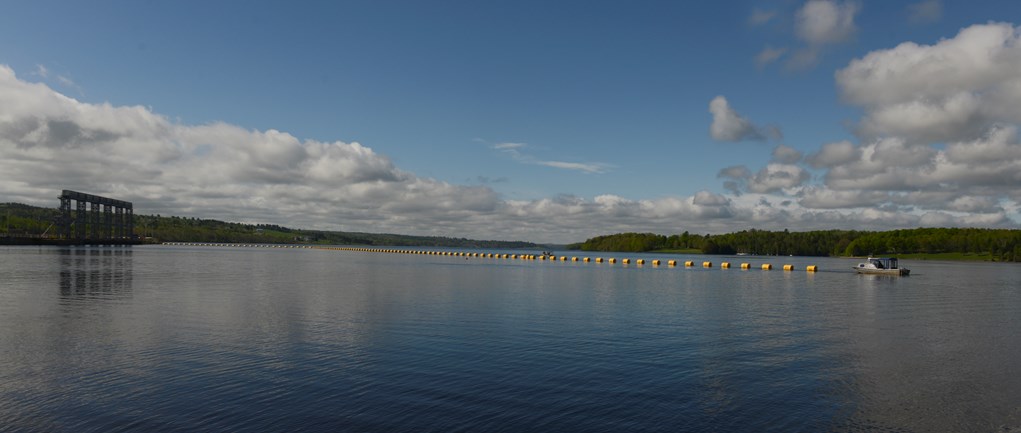 New safety boom recently installed at the Mactaquac Generating Station. 
Signs and Fencing

NB Power follows the Canadian Dam Association's guidelines to make sure people are aware of the risks near hydro dams. There are signs and fencing around our hydro stations in the locations identified below.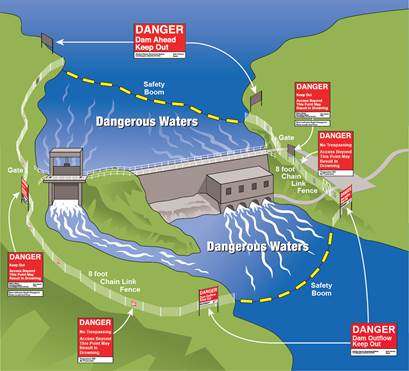 These exist for your protection. They make sure people aren't caught up in a changing water flow and unable to get to safety.
Lights, Cameras and Audio
We have installed video cameras below the dams that provide control room operators the ability to check the area below the dam before changing the operation of the dam that will change water flows. These cameras are not completely reliable on their own, especially if it is at night. There are also strobe lights and alarm sounds to signal the change in water flows. These signal the water flows are going to change - and indicates to people in the vicinity to get out of harm's way.
Another beautiful part of our province is the Grand Falls Gorge which has evolved into a tourist attraction with zip lines, kayaking and camping. People come for fun in the sun with a beautiful view.  However, it is crucial for people to recognize the dangers associated with the gorge.
Grand Falls generating station operates by step spillage. This procedure is in place to prevent the release of large amounts of water all at once but rather through a series of smaller discharge steps over a period of time so to reduce the potential hazard downstream should anyone be present. 
Here is a time lapse video a hydraulic assessment at La Rochelle. This is a 12,000 CFS step discharge.
In case of an emergency near a hydro dam, call 911 immediately.