Holy Ship! Undersea Cable Project ramps up with world-leading technology
November 17 2016, 13:13 PM
Meet Isaac Newton – a 12,500 tonne cable installation vessel from Europe that's helping lay specialized undersea cables between New Brunswick and Prince Edward Island. These cables will provide NB Power with the ability to sell additional electricity to PEI in the future, which may result in increased export sales.
After taking a trans-Atlantic journey from Rotterdam to Charlottetown, Prince Edward Island in October 2016, the vessel, with its crew of 75, began its task of laying two 16.5 kilometre, 180 MW cables, that weigh approximately 3,500 tonnes in total, underneath the cool waters of the Northumberland Strait. This work will continue for the next few weeks.
So, how does it work?
This hulking mass of yellow and grey steel is equipped with state of the art systems that allow it to simultaneously dig narrow trenches for the cables, as they unravel from either of the two cable feeders into the seabed below with minimal interruption of the bed and surrounding sea life. Once laid, the same equipment used to dig the trench will adjust the newly laid cable in the right position in the trench.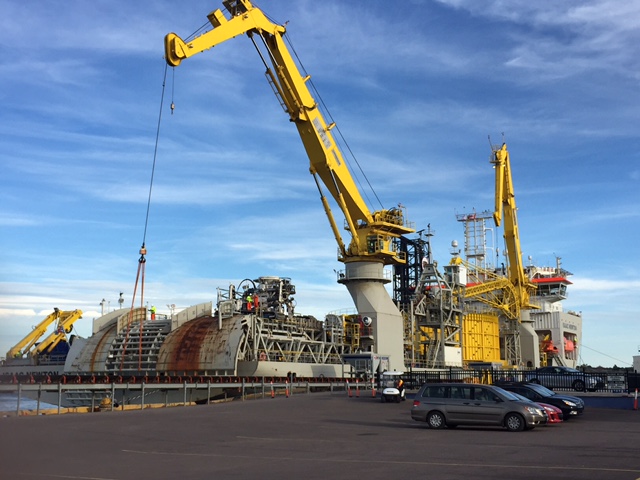 To help navigate this 460 foot ship along the right path, the crew uses a remotely-operated submarine, which glides along in front of the Newton, giving the crew a close up look at the installation work on the ocean floor.
This Isaac Newton is just the newest piece of machinery used in the complex puzzle of running 33 kilometers of cable under the sea. In May, Maritime Electric also brought in "The Starfish," a marine excavator from Belgium to help break ground near Cape Tormentine in New Brunswick. Other specialized equipment and crews have also joined this project along the way, including mechanical marine dredges from Quebec City.
Interconnection Upgrade Project
These new undersea cables will complement and eventually replace aging cables that are nearing the end of their life and will offer enough new capacity to meet the Island's growing energy needs now, and in the future. 60 km of new transmission line construction between Cape Tormentine and Memramcook and substation upgrades in Memramcook will also take place to complete the work on this project.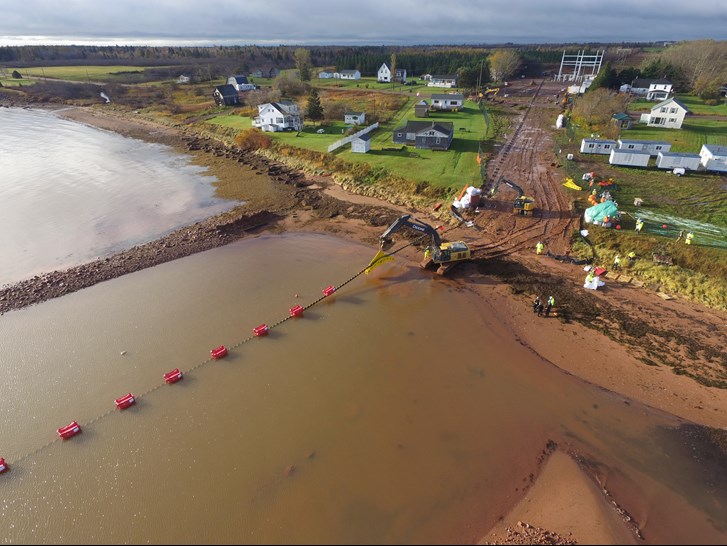 This project is a collaborative partnership between the Government of Canada and the Government of Prince Edward with Maritime Electric as the construction lead. The project is expected to be completed in May 2017.