The LaForge Dairy Farm – a Biogas success story
November 1 2016, 15:30 PM
In the rural community of Saint-André and among fields of potatoes and other agricultural production, the LaForge Dairy Farm generates enough electricity to power 1000 to 1200 homes thanks to vision, innovation, a hard-working biogas digester and no small amount of organic waste supplied by their own farm and nearby agriculture industry.
The Laforge family had always envisioned diversifying the LaForge Dairy Farm, a 1,000 acre, 200 head dairy cow operation, by integrating a biogas system to generate electricity. They integrated the idea in 1995, having done research 14 years before implementing it.
In 2009, Jacques LaForge, along with his children Louise and Rock, began the process to set up and integrate a biogas system that would connect to NB Power's grid. The first of its kind to operate in New Brunswick, the anaerobic digester system is a state of the art system that breaks down organic waste, creating a flammable gas that can generate electricity.
How does it work?
The manure from 200 cows, fries, potato skins, starch products, slaughterhouse waste, sludge from waste water treatment system -- it would otherwise all be disposed of-- but thanks to the LaForge anaerobic digester system, that waste is being put to good use- powering homes and business near the LaForge Farm.
Anaerobic digestion is a series of biological processes where microorganisms break down organic matter in the absence of oxygen where one of the end products is biogas. The anaerobic digester is comprised of a large holding tank containing a motorized mixer that churns sediment – cow manure and other organic inputs – and heats it to 40 degrees Celsius.  This mixing and heating generates carbon dioxide, methane and hydrogen sulfide. The carbon dioxide and methane are drawn out of the biodigester and fed into the biogas engine which is located nearby. The biogas engine is a specialized tool that produces electricity from the gas.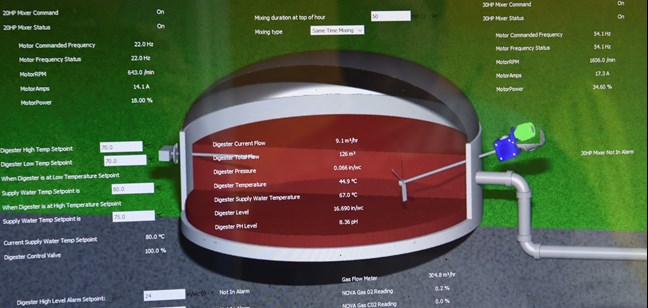 Heat is a by-product from the Co-Generator and is used to warm the farmhouse through an inlaid system of pipes under the cement floor. Any remaining sediment is moved to an on-site reservoir. Rich in potassium and nitrate, the sludge makes an excellent fertilizer which is used on nearby agricultural land. It is a sizeable and smart closed loop system.
NB Power's Embedded Generation Program
Working in conjunction with NB Power, the LaForge biogas digester feeds 13 million KWh/year of electricity onto the local grid through NB Power's Embedded Generation Program.
The purpose for NB Power, says JP Ouellette, is to generate electricity for local consumption.
"In doing so, you reduce losses on the system that occur from moving electricity down the lines. It has the positive effect of helping the local economy, too, "he says.  "Wind, solar, hydro, ocean, biogas, biomass, and landfill gas are all good fits for small-scale, renewable energy projects that could feed energy onto the grid."
The benefits of generating electricity at the LaForge Dairy Farm are clear. Product by-waste avoids the landfill through 'recycling' agricultural and industrial organic waste as inputs to the digester, greenhouse gas emissions are reduced and a new stream of revenue has been added to the LaForge Farm, making the anaerobic digester embedded generation project at the LaForge farm a win for all.
"NB Power is open to these kinds of new ideas and is always looking for solutions to get implemented," said Jacques Laforge.