Smart Grid Innovation Network: Bringing ideas to life
April 4 2017, 08:56 AM
Walking through the hallways leading to the NB Power products and services lab is like traveling through time. Designs on the walls outline the present, past and achievable future of NB Power.
The lab is just one of 3 lab environments that support the incubation of ideas for products and services that will integrate with New Brunswick's Smart Grid- together, these labs form the Smart Grid Innovation Network.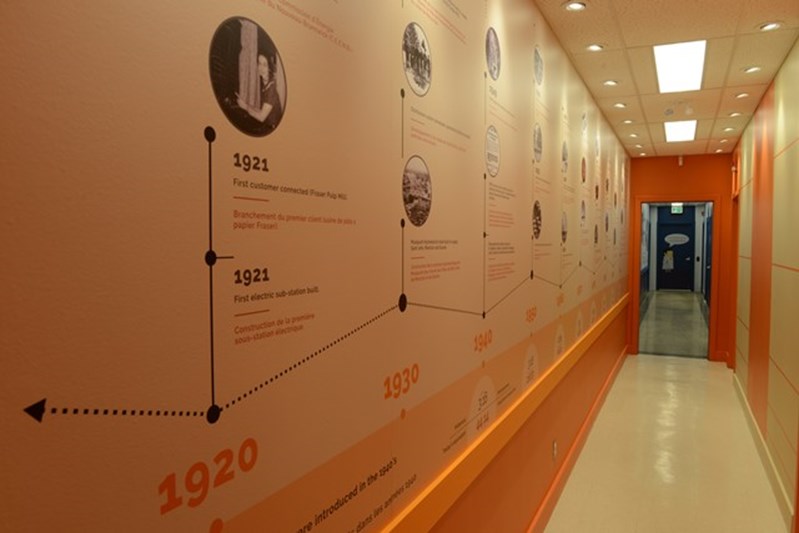 Who's involved in the Smart Grid Innovation Network?
NB Power has partnered with Siemens Canada and the University of New Brunswick to create this unique opportunity for companies to bring their Smart Grid visions to life.
It all starts at UNB: it is the idea incubator and physical device research facility.
Siemens comes in to work with products creators to establish connectivity and ensure the product is "Smart Grid ready." Then the product functionality and effectiveness is tested at the NB Power lab. This lab is the last stop before launching new innovations.
Both Siemens and UNB are indispensable partners in the Smart Grid Network.
The NB Power lab
The hallway leading to the product lab and showroom detail our utility's history through a timeline of important events that showcase our evolution to this point, and the challenges that face us for the future.
We've got one of the most diverse electric systems in North America that already incorporates a lot of renewable energy (wind up north, a little solar, and lots of hydro.)
We're starting from a good spot, but the challenge remains- finding a way to reduce and shift energy demand to 'beat the peak' that happens in the morning between 6-9am and in the evening from 4-8pm.


We are aware of the changing interests and behaviours of our customers. In previous years we didn't have to know what happens beyond the meters, but now we have to work with customers in order to keep up and grow.
The two-and-a-half year old lab is where NB Power engineers test out new and innovative products. It is ground control for our engineers to monitor the input from smart devices being tested in the field right now in pilot projects.
The product demo room
Here are products that will help you become more energy efficient as well as products that will help us manage your load.
On one wall you will see electric vehicles, solar panels and smart batteries. All are examples of new technologies that are already available.
Smart water heaters are another. We can communicate with them remotely and tell them to consume power when it's the best time to do so.
Energy efficient products, heat pumps, energy-efficient fridges are on another wall.

On the floor you will see an illustration of Integrated Load Management System. This is the brain behind everything. It is the network which connects appliances to the lab.
Get involved
Do you have an idea for a product or service that would integrate with the Smart Grid? Get in touch with the Smart Grid Innovation network here.