Get to Know Atlantic Canada's First Utility Arborist Program
May 4 2017, 10:42 AM
The Maritime College of Forest Technology (MCFT) launched a new utility arboriculture college program this February in Fredericton. This program is a joint venture with MCFT, NB Power's Distribution Vegetation Management team and Arboriculture Canada Training and Education Ltd.
Graduates of this program will complete over 1000 contact hours over the two year program, graduating with a diploma in utility arboriculture in 2019 with over ten separate certificates (such as a Chainsaw Operator Certificate, Herbicide Applicator certificate and ATV Operator Certificate, to name a few.)
The primary objective of this program is to supply a highly skilled and safety-oriented workforce to an industry that is struggling to recruit and retain workers. These individuals have gone through several steps during the admissions phase to ensure they are a best fit to this career, including an online candidate assessment tool called Talent Sorter.
The "tree trimmers" of tomorrow will be more appropriately termed "utility arborists", with NB Power and MCFT having applied for trade designation and recognition of utility arboriculture as a designated occupation within the province of New Brunswick. Program coordinators have been working closely with counterparts in Ontario and British Columbia (where utility arboriculture is already a designated occupation) to design the curriculum and move toward the goal of red seal designation.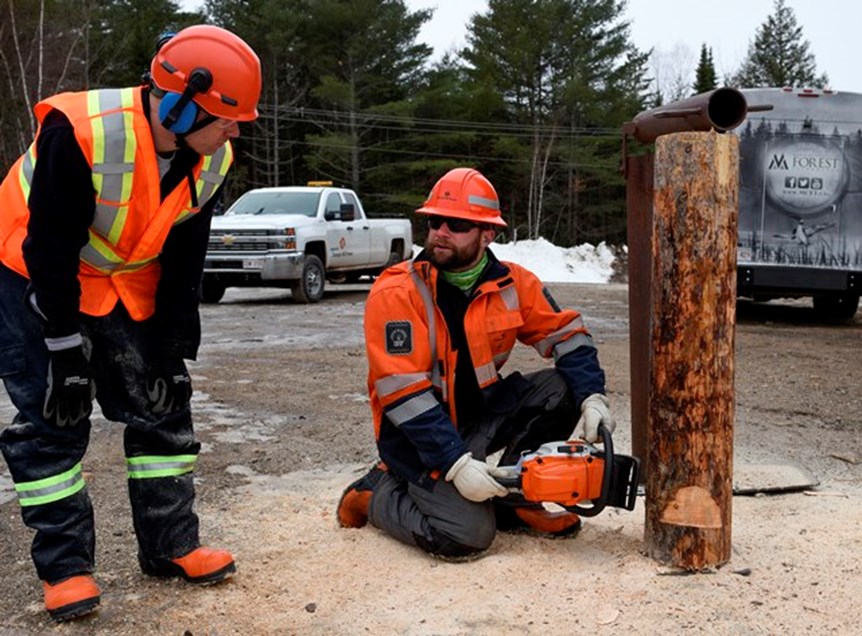 The curriculum includes courses such as Arboriculture Sciences, NB Power Safe Work Practices and Orientation, Electrical Theory and Awareness, Communications and a full suite of technical arborist courses offered through Arboriculture Canada Training and Education Ltd-Canadian leaders in the field of arboriculture. These students will be trained on proper tree rigging techniques both on the ground and high up.
This program is the first of its kind in Atlantic Canada, and has been featured in the Atlantic Forestry Review (Clearing the Lines) and MacLean's magazine.
After tireless recruitment efforts in a relatively short period of time, 28 students (27 from New Brunswick, one from Ontario) have entered the program and will begin one of two work practicums this June with an NB Power vegetation contractor. They are currently working diligently in the classroom to prepare for their first work practicum, learning everything from vegetation management principles, electrical theory, tree species identification and biology, to pruning, felling and chipping methods.
This represents a significant advancement in the level of training and professionalism in the industry, with 28 bright and engaged individuals who are willing to invest (financially and time-wise) in educating themselves with a goal of working and living in New Brunswick.