Point Lepreau employees give a helping hand to Monarch Butterflies
September 18 2018, 11:03 AM
Every summer, Point Lepreau Nuclear Generating Station welcomes some unique visitors. It's an ideal stop for Monarch Butterflies as they re-fuel for their 3,500 km journey to Mexico for the winter. The butterflies will feast on the fields of Goldenrod, Aster and Thistle, along with Milkweed planted by Station staff.
These plants are both a home and food source for Monarch butterfly eggs, and then the caterpillars which they become. This summer, these caterpillars ate through most of the planted milkweed at Lepreau, helping them grow quickly into their pupal (chrysalis) stage. But, while observing their progress, Point Lepreau Environmental Specialist, Carolyn Campbell noticed that a number of the caterpillars might struggle to find sufficient foliage and secure place to survive their pupal stage and devised a plan.
"After meeting the naturalist folks last year I took a huge interest in monarchs," said Carolyn. "When I saw the 50+ caterpillars on the small patch of bare milkweed I knew we had to help. As a result of that so many other people are developing the passion that I now have to learn more and help out. It has been amazing to watch."
In nature, only 10% to 15% of all these caterpillars survive long enough to reach their chrysalis stage.  The caterpillars typically attach themselves to the underside of a leaf, and then shed their striped caterpillar skin, revealing a turquoise-green coloured camouflage which helps protect them against predators while they gradually change into their adult state inside this new cocoon-like state. To help these caterpillars beat the odds, Carolyn and a group of her peers at the Station worked quickly to build a special incubator for the caterpillars. By setting up this habitat for the caterpillars, Carolyn and team expect the likelihood of survival to be closer to 75% for these caterpillars.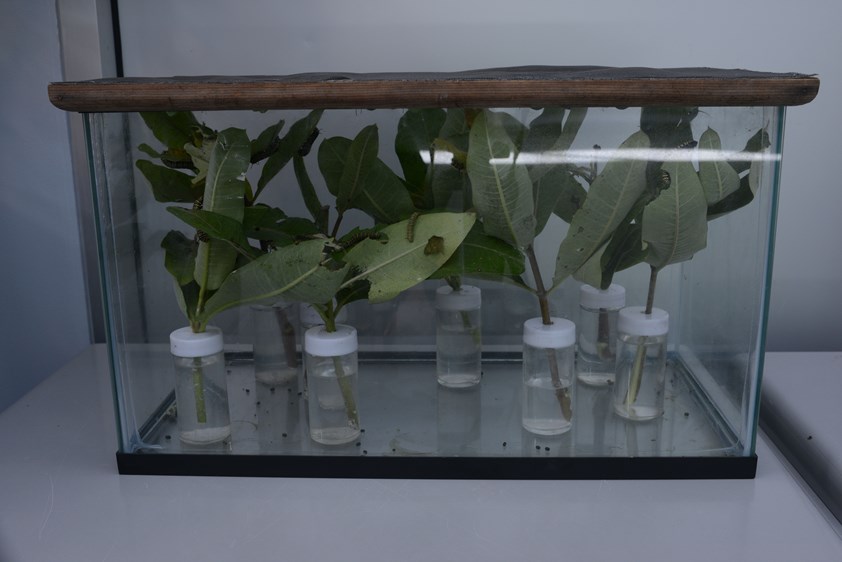 Inside their new habitat, the caterpillars are set up on Milkweed clippings. Grated netting seals the top of the aquarium, providing a place for the larvae to weave a tiny silk pad that they'll anchor the bottom of their abdomen to. They'll hang here in this upside down position for 12 to 48 hours before extracting itself from its caterpillar skeleton and enter their pupal stage.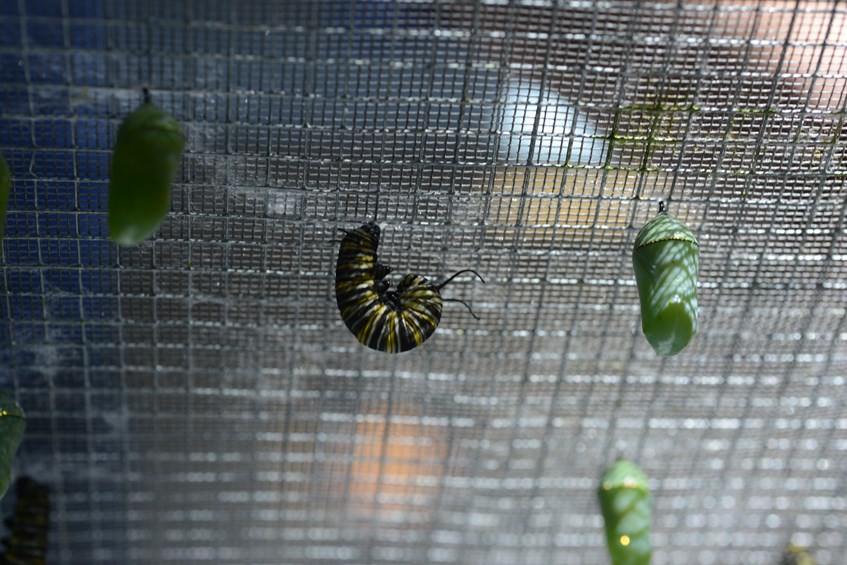 The caterpillars will remain in their cocoons for 8 to 15 days before they emerge as adult butterflies.
At first, the butterflies may be a bit weak. To help them get used to their new wings, Carolyn and team set up a special netting structure to place them to keep them safe while they get comfortable.
When they're ready to take off, these butterflies will be tagged, with the help of the Jim Wilson of the Saint John Naturalists' Club at their observatory on the Point, who has spent the last 12 years tagging these endangered butterflies. Once tagged, they will begin their journey to Mexico. Tagging helps provides data that is used to learn more about the migratory cycle and to protect it.
Point Lepreau is so important to the Monarch migration," says Jim. "It has been a wonderful work with NB Power. We are very appreciative for this great relationship."
The observatory at Point Lepreau is one of only two tagging stations in New Brunswick.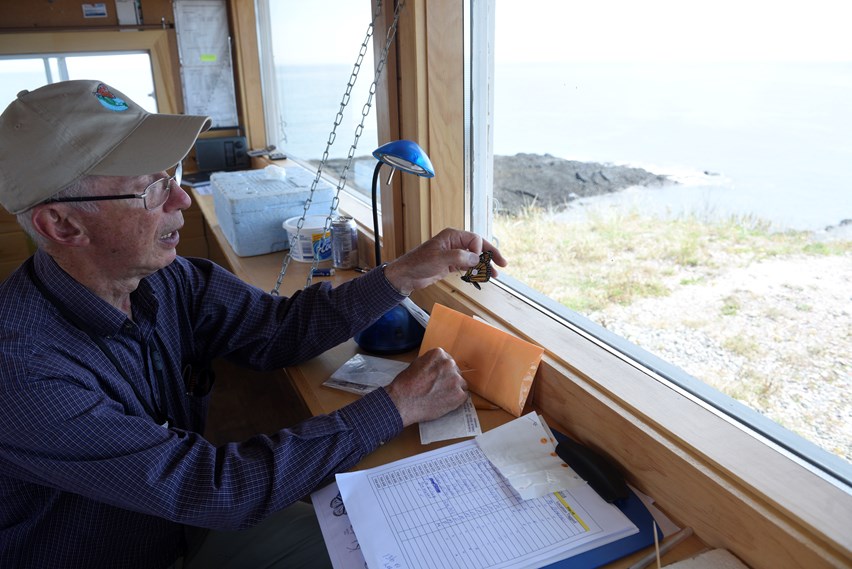 In 2017, Point Lepreau was designated an official Monarch Watch stop for these butterflies, due to all the undisturbed fields of pollinating species and the planted milkweed that the Monarchs need. Monarch Watch is a nonprofit education, conservation, and research program based at the University of Kansas that focuses on the monarch butterfly, its habitat, and its spectacular fall migration.