News
NB Power to install a safety boom above the Mactaquac Dam
2016-05-13
Fredericton, N.B. – NB Power is installing a safety boom above the Mactaquac dam to keep boaters and swimmers safe. The installation will take place during the week of May 16 when divers will attach the boom to the anchors that were installed last fall.
"The river current changes quickly above and below the dam," says Marcel Chasse, NB Power Hydro Manager. "We want to keep people safe while they're enjoying the Saint John River by having safety measures in place to identify areas where water currents are strong enough to capsize a small pleasure craft."
The boom will be located just upstream of the generating station, near the bridge crossing, and will prevent boaters from approaching the strong currents and fast-moving water that can occur near the facility.
NB Power has also installed signage, booms and buoys, fencing, video cameras and audible alarms at all hydro facilities, along with a portage route for kayakers and canoeists at the Beechwood Dam to help protect the public and raise awareness about the dangers on the water near hydro facilities.
"Those who enjoy the river systems need to be aware of the hazards to help prevent accidents," says Chasse. "NB Power is working to have improved safety measures in place at all hydro facilities to help protect the public."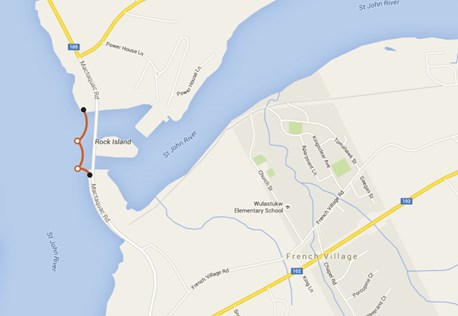 MEDIA CONTACT: Meghan Gerrish, Communications, (506) 458-4219 mgerrish@nbpower.com