News
NB Power installing 1,600 bird diverters on Sackville line, carrying out maintenance
2019-10-04
Memramcook, NB – NB Power will be carrying out important maintenance work on 25 kilometres of transmission lines from Memramcook to Sackville. This will include the installation of 1,600 bird diverters to minimize bird strikes with the line.
The 138 kilovolt transmission line was constructed in the 1960s and there are a number of ground wires and other pieces of equipment on the line which need to be replaced.
NB Power will be carrying out the work in the least invasive way possible. There are no new structures required, nor is there any need to dig during the work phase, which will be carried out Oct. 4 to Dec. 15.
Approximately 28 towers will be inspected and work carried out on them.
"At NB Power we are always sensitive to ecological areas, such as the Tantramar marshes. If we need to use any vehicles, they will be the lightest possible, most of the work will be done by climbing towers, and we are mindful and will await work to begin after young birds, such as Osprey, have left nests along the line," said Gaëtan Thomas, President and CEO of NB Power.
The utility has also been in touch with ecological groups and environmental groups in the area to explain the work that will be carried out.
Media Contact:
Marc Belliveau, Communications, NB Power (506) 458-4203; mbelliveau@nbpower.com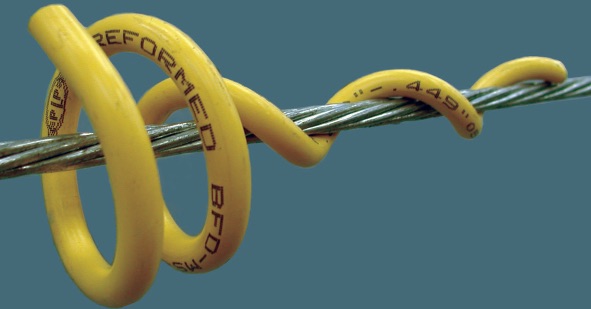 Bird diverter. PHOTO:Preformed Line Products