Floodlights
We know that safety and security for your business and your employees is important to you. Our wide selection of energy-efficient floodlights can help you gain more effective illumination and make your business appear more attractive and visible - increasing the safety and security of your premises and helping to reduce accidents, injury, vandalism and burglaries.
We rent floodlights with a hassle-free solution for security lightings, advertising, and ambient lightings, which could be used at campuses, parking lots, warehouses, driveways, parks, sports fields, billboards, building façades, tunnels, and outdoor arenas. 
The advantages of renting floodlights from us are: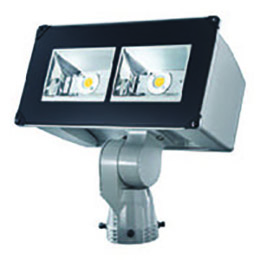 Lifetime Warranty
Superior Customer Service
No Maintenance Requirements
Low Rates
Energy Efficient and Environment Friendly Products:

Less lighting trespass, glare, and light pollution to the surrounding areas.
Better colour rendition and enhanced security.
More reliable lighting due to reduced maintenance requirements
Dark sky friendly
More consistent light levels on the ground
Reduced greenhouse gas emissions
Monthly Rental Rates
LED Flood Lights
September 1, 2019
250 Watt Metal Halide Equivalent
$27.70/month
400 Watt Metal Halide Equivalent
$34.29/month
1000 Watt Metal Halide Equivalent
$59.34/month
(Plus harmonized sales tax)
An additional charge for pole rental may be required.
 
For more information call 1 800 663-6272 or submit your request using our online form.