Plumbing and Electrical Requirements
NB Power's water heating equipment must be installed and used only for the purpose intended – supplying hot water. The misuse of the equipment being connected to a furnace coil or other auxiliary means of heating, is dangerous and strictly prohibited.
When requesting a water heater service such as a maintenance, delivery, replacement or installation the customer is responsible to meet the following safety requirements:
Note: We do not do the initial installation of 100 gallon water heaters.
Plumbing:
Shut Off Valve
Since 1970, the Canadian plumbing code requires the installation of a shut off valve on the water heater's cold water line. The shut off valve isolates the water heater, which enables us to perform the required service.
If you do not have an existing or functioning shut off valve, this service can be provided at the same time of the replacement at an additional charge.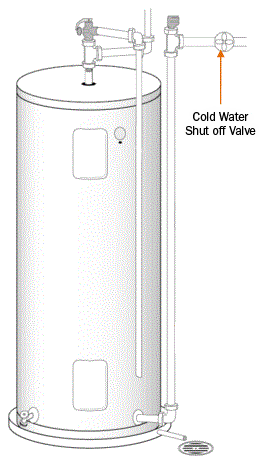 Accessibility:
A minimum of 18 cm/7" - 25 cm/10" clearance is required at the top of the tank and 5 cm/2" around the diameter to accommodate associated fittings. For tank sizes, click here.
Sufficient space for our technician to safely service the water heater.For closets and close quarters: if you are replacing an old unit, keep in mind that newer units may be larger, as more insulation is required in the jacket of the water heater to meet the latest strict federal energy standards.
A clear unobstructed path to the water heater (no snow, boxes, walls, appliances, etc.)
Wiring:
22 and 40 gallon (240v) water heaters require:
Voltage 240
Conductor Size 12/2
Fuse Size 20 amps
Note – acceptable variances are:
Conductor Size 10/2 with Fuse Size 30 amps
Conductor Size 10/2 with Fuse Size 20 amps
40 gallon (208v) water heaters require:
Voltage 208
Conductor Size 12/2
Fuse Size 20 amps
60 gallon (240v) water heaters require:
Voltage 208 or 240
Conductor Size 10/2
Fuse Size 30 amps
Note – Although we currently do not rent 60g 208V water heaters, we do rent 60g 240V water heaters that can be installed safely on 208V circuits.
Piping:
Acceptable piping:
Copper
PEX (Cross linked PolyEthylene)
CPVC (Chlorinated Polyvinyl Chlorine)
Poly-B (Polybutylene)
Drain:
The location of the water heater should be close to a free flowing floor drain or other acceptable means of directing the water to a safe location of disposal.