Benefits of EVs
There are more reasons than ever to drive an EV.
1. SAVE ON FUEL COSTS
By fuelling your car with electricity instead of gas, you could save thousands of dollars per year on fuel costs. On average in New Brunswick, battery only electric vehicles cost about $500 per year to fuel with electricity compared to over $2,000 in gas costs for an internal combustion engine car.
Choose your EV and calculate your savings
There are two kinds of electric vehicle (EV), fully electric and plug-in hybrid electric. Most fully electric cars can travel 400+ km on a full charge. Plug-in Hybrids provide 30-80 km of dedicated all-electric driving (depending on model), before a gasoline engine or generator turns on for longer distances.
With 50+ EV models available for sale in Canada, there is an EV for EVeryone.
Discover your EV options by visiting Choose Your EV.
2. SAVE ON ROUTINE MAINTENANCE
With no tune ups and no oil changes, electric vehicles can help you save on maintenance costs every year.
Average annual vehicle maintenance costs per household2
The average household in Canada has 1.5 vehicles
3. SAVE ON LIFE CYCLE MAINTENANCE
With fewer moving parts - 20 moving parts on an EV compared to 2,000 moving parts on a gas vehicle - the drivetrain (the parts that take your energy source, gas or electricity, and turn it into movement at the wheels) in electric vehicles has less to go wrong. That means fewer trips to the garage and fewer unexpected costs over the life of the vehicle.
4. LEAVE A SMALLER ENVIRONMENTAL FOOTPRINT
Switching to an electric vehicle can reduce your CO2 emissions by approximately 80%. In New Brunswick alone cars and trucks burn more than 1.1 billion litres of gasoline each year emitting more than 2.5 million tonnes of carbon dioxide (CO2) into the atmosphere. By reducing that amount we can lessen our contribution to climate changes, extreme weather events, and smog related health problems.
AVERAGE EMISSIONS (KG) OF CO2/100 KM TRIP*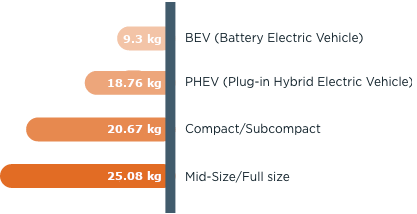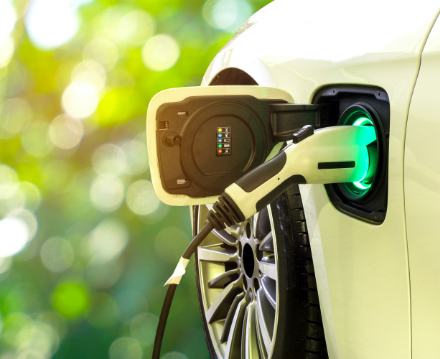 WHAT TO REMEMBER
All the great things you can expect as an EV owner:
A CO2 footprint that is 80% lighter than driving a gas vehicle
The ability to get around town powered by electricity made right here in New Brunswick
Save approximately 75% on the cost to fuel with electricity compared to a gas vehicle
Lower operating costs — no tune-ups
EVs & NB POWER
For NB Power, EVs offer future flexible electricity storage which, along with smart chargers, becomes a key component of our smart grid. Electric vehicles represent a great opportunity for customers and NB Power to work together to create a low-carbon future.
NB EV OWNERS LOVE
"Instant acceleration"
"Unbelievably quiet"
"Always turning heads and starting conversations"
Benefits of EVs

All figures are based on NRCan Fuel Efficiency figures for 2020, assuming 100km of driving.
* Based on driving 20,000 km/year, a full-size plug-in hybrid electric vehicle emits approximately 3,793 kg of CO2 compared to more than 5,015 kg of CO2 emitted from a full-size car. A compact battery electric vehicle emits about 1,860 kg of CO2, compared to approximately 4,133 kg of CO2 from a compact gas car. Source: NRCan (Natural Resources Canada). Assumption: PHEV runs 100% on electric
https://www.tc.gc.ca/eng/policy/anre-menu-3042.htm
(https://www150.statcan.gc.ca/n1/en/pub/53-223-x/53-223-x2007000-eng.pdf?st=WL41o3at)
1 - Fuel Savings Interactive Tool
All figures are based on NRCan Fuel Efficiency figures for 2020, assuming 100km of driving.
Electricity Price is based upon the residential rate as of July 2020
 Fuel savings calculation assumes 100 per cent residential charging. For more info on public charging, please visit our charging network website.
Fuel price is based on the NBEUB Current Petroleum Price for Regular Gasoline Self-serve, updated on this calculator every month.
Results may vary. Your actual savings may differ according to your own driving habits, mileage and vehicle.
2 - Average Annual Vehicle Maintenance Costs per Household Chart

Source: 2 Degrees Institute ( www.2DegreesInstitute.org)
Comparing Fuel and Maintenance Costs of Electric and Gas Powered Vehicles in Canada

Find the EV that matches your lifestyle and budget
---
Calculate any eligible rebates, and how much you'll reduce your greenhouse gas emissions by switching to an EV.
Find Your EV Match at plugndrive.ca