Community Events
2022
Electric Vehicle Test Drive Tour
June-July 2022
This summer, NB Power partnered with Plug'n Drive to give New Brunswickers the opportunity to try electric vehicles (EVs). Our EV Test Drive Tour visited five New Brunswick communities: Saint John, Fredericton, Riverview, Bathurst and Grand Falls.
In each community there was a great turnout with lots of engagement and questions from interested New Brunswickers who took more than 600 test drives and had lots of positive comments about the experience.
The tour was made possible with the support of our generous site owners - TD Station, the Capital Exhibit Centre, Sobeys Riverview, the Atlantic Host Inn and the Centre E.&P. Sénéchal Center.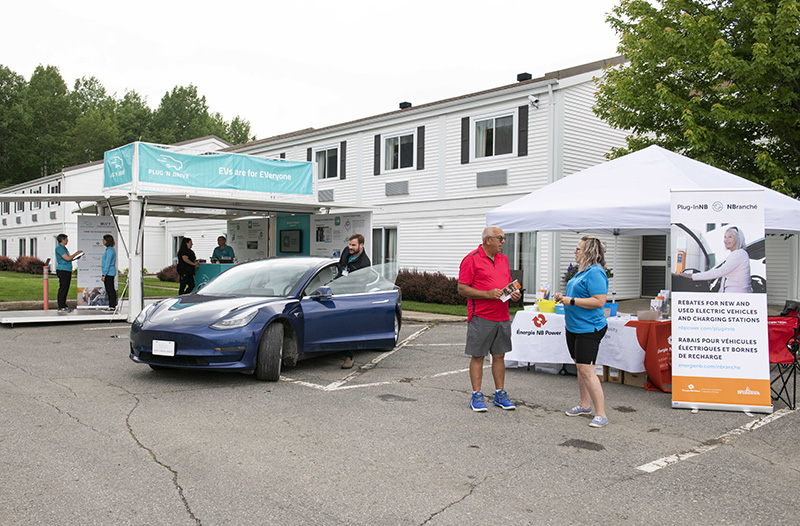 Energizing Efficiency Conference
June 6 & 7, 2022
NB Power's Energizing Efficiency Conference made a strong comeback in 2022, after a three-year hiatus due to pandemic restrictions. The 2022 event took place June 7 and 8 at the Saint John Trade and Convention Centre.
More than 280 people attended the conference and dinner, representing diverse business sectors, organizations and education centers. From municipal utilities to efficiency service organizations and technology firms to not-for-profits, it was a great mix of participants, leading to exciting conversations and ideas.
"To be able to offer a first-class conference experience here in New Brunswick makes us incredibly proud," said Tracey Somers, Conference Lead. "Bringing together energy and community leaders to network and learn and ultimately, help New Brunswickers save energy, help the environment and drive our economy, is really what the conference is all about."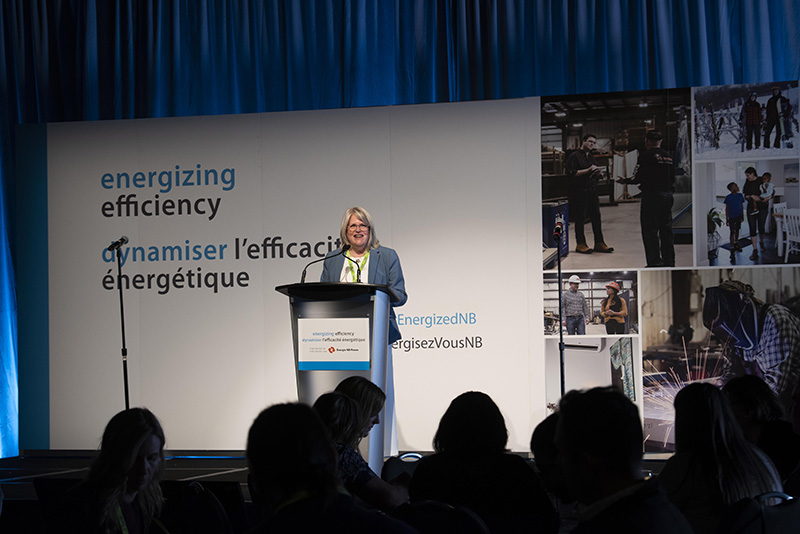 Metalworking & Manufacturing Expo
May 31, 2022
In May, NB Power employees attended the Metalworking & Manufacturing Expo in Moncton. This expo is industrial-focused with suppliers in the fabrication world. There was a great interest in energy efficiency programs among the various welding and manufacturing companies attending from communities throughout New Brunswick. Many were excited to learn that our Industrial Energy Efficiency Program provides incentives to help with their operations, including upgrades for qualified products such as high efficiency electric motors, lighting, compressors and more.
EV Show and Shine
May 15, 2022
Our employees were part of the inaugural Electric Vehicle Show and Shine in Fredericton. The event was organized by local EV owners, enthusiasts and car dealers who wanted to give New Brunswickers a chance to learn about the options and chat with experienced owners. Our employees were on hand to answer questions about Plug-In NB and the eCharge Network.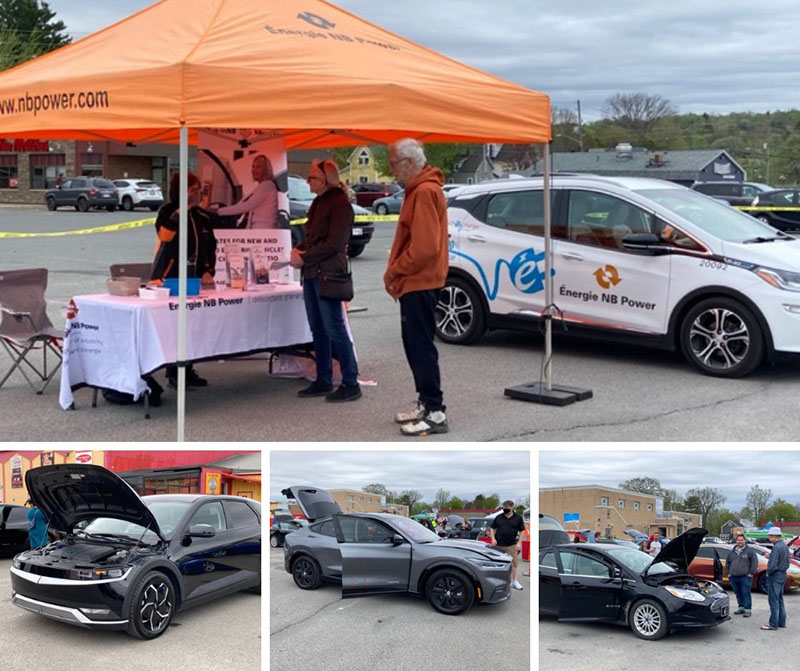 Mechanical Electrical Electronic Technology (MEET) Show
May 4 & 5, 2022
Members of our Energy Efficiency Teams were proud to participate in the Mechanical Electrical Electronic Technology (MEET) Show in Moncton. The commercial show is an excellent place for NB Power to share information about our commercial energy efficiency programs.
Shawn Chisholm, a Program Lead for business efficiency programs, enjoyed working the event.
"A presence at these events gives NB Power credibility with its customers and service providers throughout the province," he said. "It provides New Brunswick businesses with more tools to help their own customers as well."
Community Home Shows
April 2022
NB Power participated in three home shows around the province over two weekends in April in the communities of Saint John, Caraquet and Fredericton. NB Power employees who worked these shows were keen to engage with our customers face-to-face again, sharing information on our products and services, efficiency rebate programs and electric vehicles.
Mary O'Neill, a Community Relations Officer at NB Power, was excited to join our team working at the Fredericton Home Show.
"It was great to be out talking to our customers again and sharing the important work our organization is doing throughout New Brunswick," Mary said. "Customers were really interested in our efficiency program offerings to save money and energy at home and work. The electric vehicle at our booth was a great conversation starter for customers with questions about electric vehicles, which gave us the opportunity to provide details of the Plug-In NB program for EVs."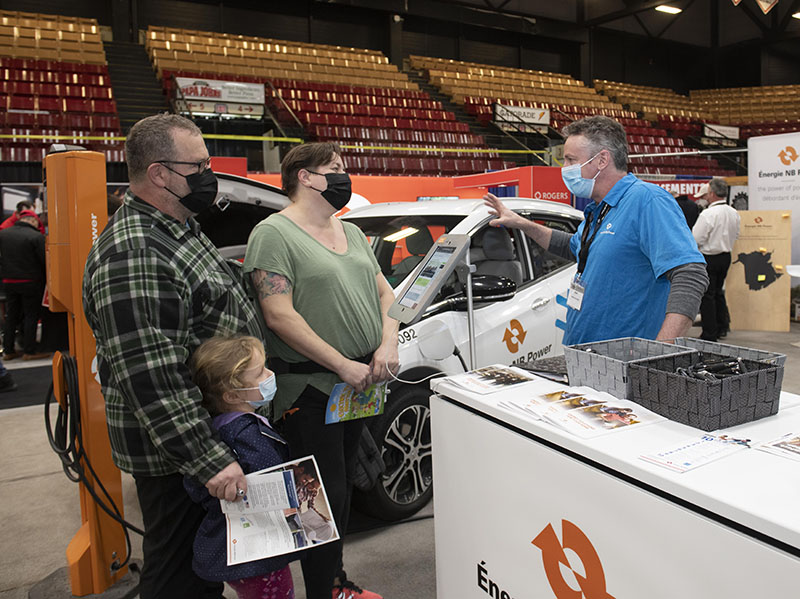 Point Lepreau Public Information Sessions
Fall 2021/Winter 2022
NB Power regularly holds public information sessions for the Point Lepreau Nuclear Generating Station, giving the public a chance to ask questions and learn more about the Station.
Throughout Winter 2022, we opened our doors – both virtually and in-person - to provide information on our licence renewal and our commitment to the environment, community and safety.
September 16, 2021 – Saint George
December 14, 2021 - Online information session
February 17, 2022 – Online information session
March 1, 2022 - Dipper Harbour
March 3, 2022 – Saint John
March 15, 2022 – Saint George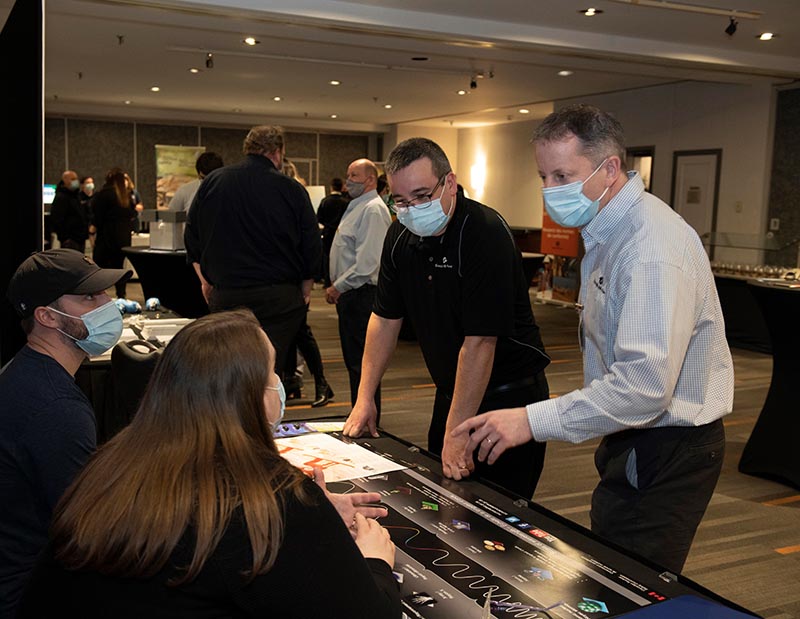 2021
Association francophone des municipalités du Nouveau-Brunswick Annual General Meeting
December 3, 2021
Several NB Power employees participated in the Annual General Meeting of the AFMNB. The team shared information about energy solutions offerings and answered questions about NB Power. There were booths about the Shediac Smart Energy Community Project and the development of Advanced Small Modular Reactors (SMR) in New Brunswick.
Sheila Lagacé, an NB Power Communications Specialist, felt energized to connect face-to-face with attendees.
"As a francophone myself, I was pleased to have the opportunity to connect with representatives from various francophone communities around the province to talk about the role that advanced reactors can play in our transition to low carbon electricity production," said Sheila. "Everyone I talked to was curious and eager to learn more about how this could benefit our communities and position New Brunswick as a leader in clean, reliable and affordable energy as we continue to explore ways to fight climate change and offer the best energy solutions to our customers."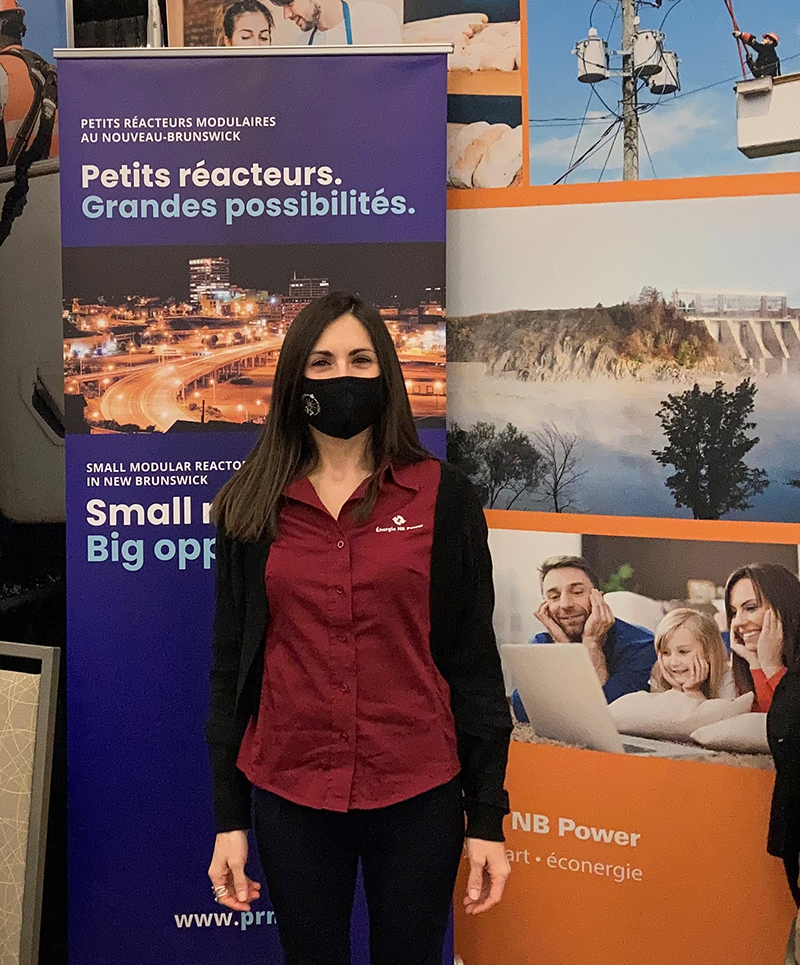 Charlotte County Fair in St. Stephen
September 18 & 19, 2021
A team from NB Power attended the Charlotte County Fair in September, an event that celebrates rural living in southwestern New Brunswick. Hosted at the Ganong Nature Park, the annual event features a wide variety of activities focusing on produce, crafts, vendors and hands on exhibits.
Shawn Chisholm, a Product Management Specialist for business efficiency programs, was one of the employees who represented NB Power at the fun event.
"The fair was a very busy event with many questions about heat pumps and solar incentives for homes," he said. "It was surprising how many new residents from other parts of Canada were there saying they absolutely love it here in New Brunswick and appreciate the friendliness of the people."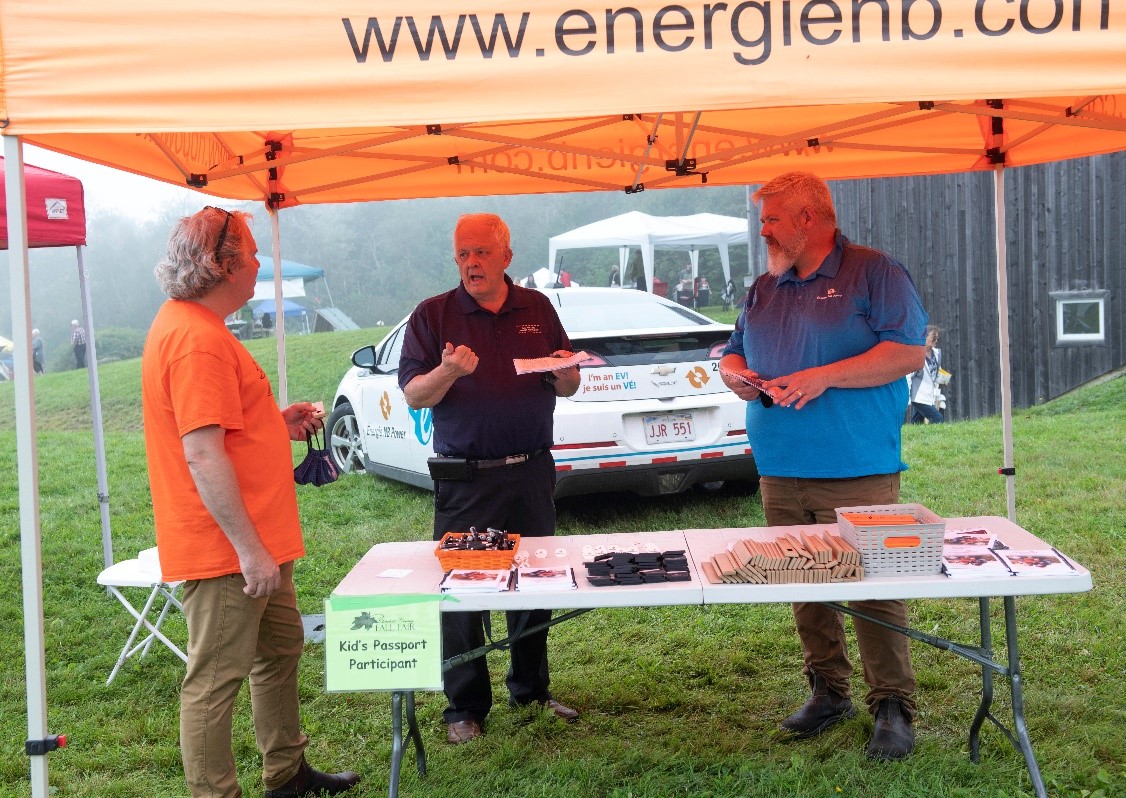 Harvest Music Festival, Fredericton
September 17 & 18, 2021
NB Power employees enjoyed connecting with New Brunswickers at the Harvest Music Festival in September. The team had several electric vehicles on display to promote the new Plug-in NB rebate program. Our showcase home was set up on site to encourage conversations about programs, products and services to help customers at home.
Melanie Ryan, one of our Technical Energy Advisors, enjoyed the experience and met lots of wonderful New Brunswickers.
"It was a great experience to represent my company in the community," Melanie said. "It's always interesting to talk to our customers about what matters to them; from getting their homes ready for heating season to the various projects we have going on around the province. New Brunswickers are always engaged! I always look forward to attending community events."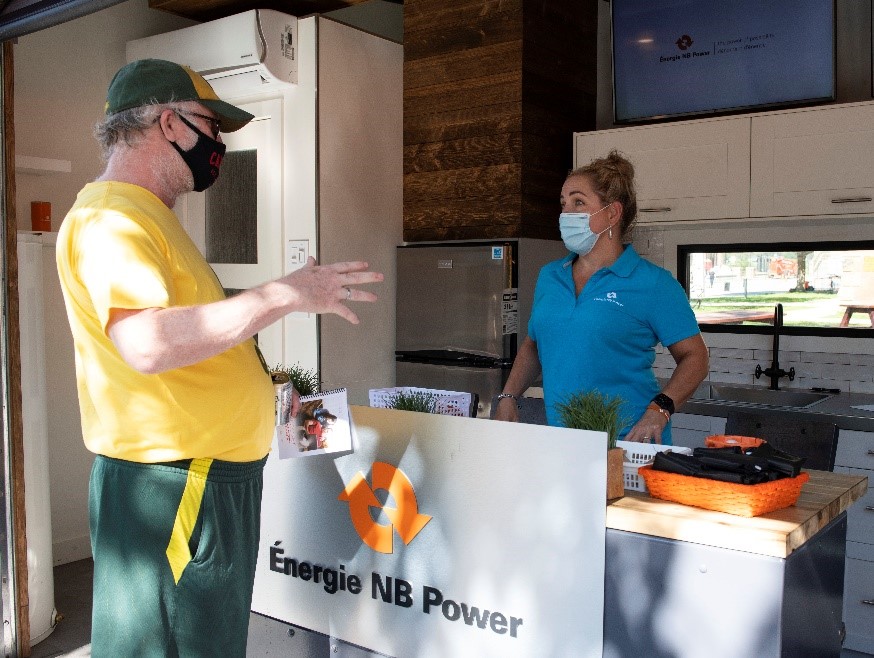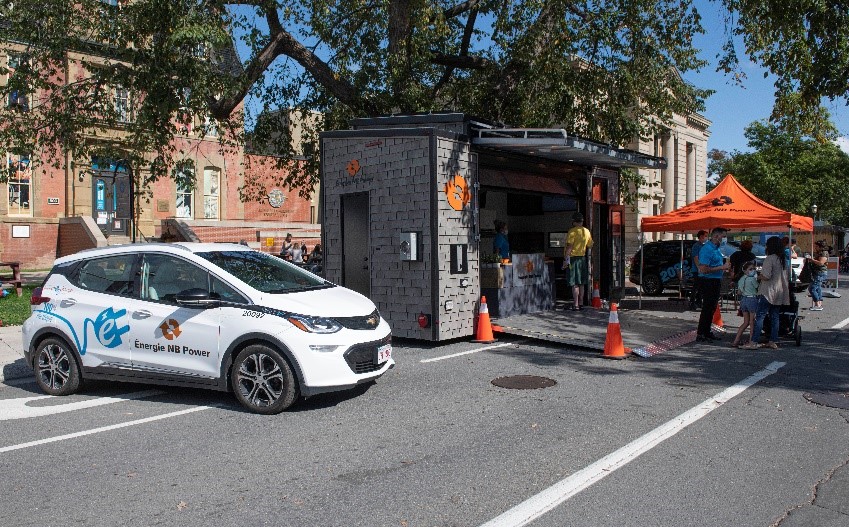 Drive Electric Days
September 11 & 18, 2021
In September, NB Power employees proudly participated in public events to encourage New Brunswickers to learn more about electric vehicles and to promote the new Plug-in NB rebate program for electric vehicles and charging stations.
Organized by the New Brunswick Lung Association, these free events in Moncton and Fredericton provided participants a chance to test drive different models of EVs, including Tesla Model 3, Hyundai Kona, Audi E-Tron, Nissan Leaf and E-bikes.
Jo Gagnon-Levesque, a Technical Energy Advisor who supports home efficiency and electric vehicle programs, said the events were a great way to encourage people to consider driving electric.
"I enjoyed answering questions about electric vehicles and how and where to charge them and explaining the generous incentives available through both federal and provincial programs," Jo said.