Water Heaters
Water Heater Rentals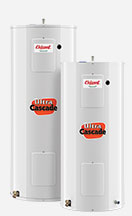 Did you know that we offer water heater rentals? NB Power's rental program offers a premium quality, Canadian-made, dependable product. They work safely, efficiently and cost-effectively, plus NB Power takes care of maintenance and repairs if necessary.
For you, it means having a quality product that is reliable and is supported by the team of New Brunswickers at NB Power. We stand behind our products, with a service program that is quick , reliable and free. Call us today to discuss your hot water needs, or to schedule a maintenance call.
Call us at 1 800 663-6272. We're available around the clock to serve you.