How
New Brunswick's electrical grid is made up of approximately 27,000 kms of high and medium voltage power lines. Our lines also run through neighbourhoods, bringing electricity to your homes. In many cases, our right-of-ways run along roads lined with trees or through forested areas.
When we cut and prune trees, our goal is always to balance power supply reliability with environmental concerns while respecting New Brunswick's natural beauty.
Pruning standards
We employ forest experts who follow safety and science based standards for all pruning. These standards use directional pruning to remove limbs that will come into contact with energized power lines. Using this method, branches are removed near the point of connection with the tree, allowing the tree's natural defences to protect against decay and disease. Directional pruning also requires less maintenance and directs new growth away from power lines, allowing the healthy tree to grow to its natural height.  
Examples of directional pruning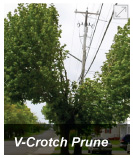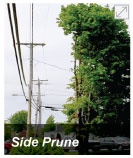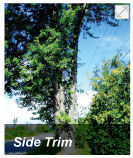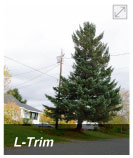 What trees are we mostly likely to remove?
Unstable trees that could fall into lines
Fast growing trees such as poplars, Manitoba Maples, Pin Cherries, White Birches and Grey Birches
Trees or bushes blocking access to electrical equipment.
Vegetation Management along primary distribution lines
NB Power certified tree contractors clear trees along right of ways in three separate stages.
      

A crew clears trees and brush around poles and identifies potential hazards such as guy wires and wire fences.

      

A bucket truck crew tops and prunes trees to a safe distance from the power lines. 

      

A mulching crew will mow remaining vegetation and debris.

 
In some areas, due to location, timing and equipment availability, there may be a short delay between stages of tree maintenance.
Wood larger than 10cm in diameter will remain on site for the land owner.
Vegetation management along transmission lines
We also work to limit the impact of trees and plants around high voltage lines known as transmission lines.
This work includes:
manually pruning tree branches adjacent to right-of-ways
manually cutting or mechanically mowing trees in the right-of-ways
where necessary, mechanically or manually applying herbicides selectively on shorter trees and stumps to manage growth. NB Power does not apply herbicides aerially.
Our program follows all regulatory requirements for both cutting of vegetation and for herbicide application.
Our goal is to create right-of-ways with lower-growing shrubs that don't interfere with power lines, but do provide cover for wildlife and are attractive to look at.
Use of Herbicides
Herbicides are widely used to manage vegetation growth, and are often more effective than manual cutting in controlling the growth of hardwoods. Cutting hardwood trees leads to quick regrowth of new tree sprouts from the stump, interfering with the growth of low-lying shrubs and requiring our crews to return more often to the area for maintenance.
NB Power forestry crews cut every three to four years along rural right-of-ways, but cutting alone is not enough to ensure our system operates safely and reliably.
Selective herbicide application prevents regrowth of hardwoods, and promotes the grown of lower-growing plants like grasses, shrubs, ferns and berries that do not interfere with power lines.
The herbicide most often used by our forestry crews is VisionMAX. Its active ingredients are very similar to those commonly used in lawn, garden and farm operations in New Brunswick. It is water soluble, mixed at 96 parts water to four parts product. Approximately 50 litres of the mixture is applied per acre, containing two litre of product and 48 litres of water.
NB Power has received approval from the Department of Environment to apply herbicide products Navius, Clearview Brush and Vision Max on approximately 1,500 hectares of transmission right of ways during the summer of 2017. This work is expected to begin in mid-June and continue until mid-August, weather depending.
Our work will occur only in the following areas on the transmission lines indicated on the map above :
Victoria/Madawaska/Restigouche Counties
St. Quentin to Kedgwick
Kedgwick to Eel River
St. André to Eel River
Dalhousie to Belledune
Gloucester / Northumberland/ Westmorland/ Kent Counties
Bathurst to Miramichi
Salisbury to Miramichi
York/ Carleton/ Victoria Counties
Keswick terminal area
Keswick to St. André
Permissions, public notice and water protection
We use herbicides in limited areas, on approximately (50 per cent) of our rural right-of-ways, and the products are applied mechanically or manually by licensed applicators in a way that is overseen by the provincial Department of Environment and Local Government. The products are approved by Health Canada's Pest Management Regulatory Agency (PMRA) and the application of these products is regulated by the Province of New Brunswick.
As part of its annual permitting process, NB Power submits maps of project areas to New Brunswick's Department of Environment and Local Government.
Buffer zones and homeowner notification
All approvals require a 15 to 75 metre buffer from all open water be maintained depending on the product being applied. A 15 metre setback from all occupied dwellings is required, however NB Power has committed to maintain 10 times that requirement with a 150 metre setback.
NB Power publicly advertises treatments at least one month prior to any work beginning, and posts ground-level notification on site immediately following a treatment with signs indicating the date of treatment, the type of product applied and NB Power's customer contact number, which is open 24 hours a day seven days a week. In addition, NB Power will notify personally any residents within a 500 metre diameter of the application at least one week prior to application.
People who use the right-of-ways to collect wild food or medicinal plants are encouraged to contact NB Power with any questions.
Read more about our Integrated Vegetation Management Program.
Questions?
Our forestry team responds to any questions or concerns about vegetation management activities and can be reached through our Customer Care Centre.
We're the experts.
Our forest technicians are ISA Certified Arborist Utility Specialists. They have years of hands-on experience combined with formal training in the field of arboriculture, horticulture, landscape architecture, or forestry, and are tested on topics such as electric utility pruning, program management, integrated vegetation management, electrical knowledge, customer relations and storm response.