Dam Safety
Stay Safe Around Dams
Water near hydro dams can change from scenic calm to deadly torrents in a matter of seconds. Use caution near dams and surrounding waterways and always check for warning signs.
Be observant and watch for indications of changes in water levels or flows.  At some of our hydro dams we have sirens and/or strobe lights which are additional warnings that water levels are changing.
Stay outside of public safety booms and buoys.
Stay clear of generating facilities including dams, powerhouses, power lines and all electrical equipment.
Always supervise children and help them to learn how to keep safe.
Obey all warning signs and keep out of fenced, gated, and restricted areas.
Stay well back from the edge of a waterway where footing may be slippery or the bank unstable.
The ice around dams in winter is not safe. Ice near these facilities is thin because the current and water levels are always changing. Rapid temperature changes can cause ice to melt and the ice around our facilities may be weak because of changing flows and water levels.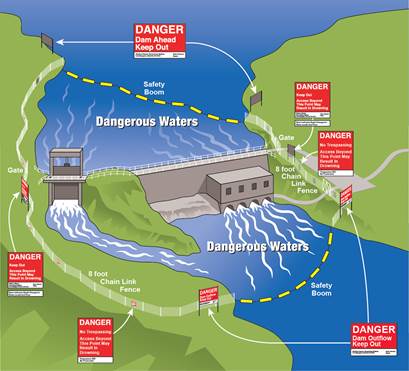 ---
Water Levels
Mactaquac
FEET
UPDATED
The Mactaquac headpond's normal level is 132 feet.
During dry conditions and when maintenance work and other operations occur, levels can fluctuate.
At 130 feet we warn boaters and dock owners to take precautions to protect their properties from damage. But different levels can affect dock and boat owners differently depending on the river topography. The number above represents real time levels at the headpond.
If you would like to receive email advisory notices when the water level may be lowered below 130 feet, please email Corporate Communications.