Bears thriving a decade after rescue by NB Power employees
November 24 2021, 11:06 AM
Lucy and Desi live a pretty comfortable life at the Magnetic Hill Zoo in Moncton. The black bear siblings have a great enclosure and a steady source of food served to them daily. Like the other animals at the zoo, they receive great care from a dedicated team of professionals.
They lucked out.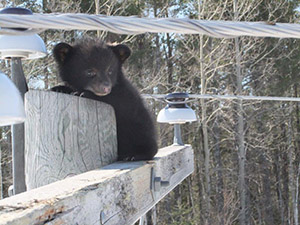 Ten years ago, a terrible hunting incident led to deaths of their mother and sibling. The tiny cubs were stuck on top of a power line structure in Allardville, terrified and clinging to safety.
On April 10, 2011, NB Power received a call from the Department of Natural Resources, asking for help rescuing the cubs. Line workers James Doucet and Bruce White (who has since retired) jumped into action.
James still works in the Bathurst area as a Lead Powerline Technician and vividly remembers that day.
"Bruce and I were on call that weekend," he said. "We sure weren't expecting to be part of a rescue mission! We drove to the location and realized we needed a bigger truck. We came back with a double bucket truck and went up to help the bears. The cub that had been hanging on was easy to keep hold of as she melted into Bruce's arms. The other one was a bit more feisty and harder to get down to safety!"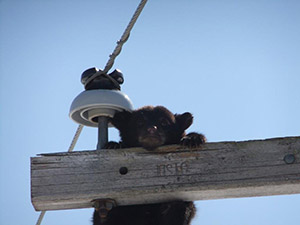 The Department of Natural Resources transported the cubs to the Magnetic Hill Zoo to be with a team of animal care professionals.
Tiffany Bateman is an Animal Care Supervisor at the zoo. She was part of the team that helped with the cubs when they arrived a decade ago.
"When I first saw them, Lucy and Desi were about the size of a loaf of bread," she said. "It was an incredible experience to bottle feed the cubs and see them gain strength and grow into adolescent bears. They were curious, mischievous and adorable."
As they grew into toddlers, the bears also became incredibly messy.
"We'd blend up a mix of baby food, puppy chow, cottage cheese and other items into a slurry," said Tiffany. "In those early months, feeding time was like watching human toddlers eat spaghetti with their hands!"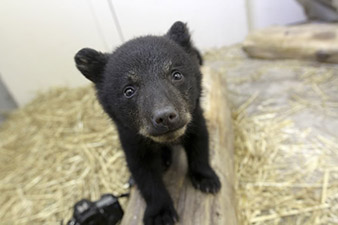 The newest zoo residents received a lot of attention, and many families came to see them in an indoor enclosure for an up-close experience.
Lucy and Desi adapted well to the zoo environment and transitioned into an outdoor bear enclosure the next year. There they met 18-year-old bear Gary, who was happy to have the youngsters around.
"He was a great friend and teacher to the cubs and their energy gave him a new lease on life," said Tiffany. "Sadly, Gary passed away last summer. Now Lucy is the dominant one – she definitely makes it known that she's in charge. Desi is more playful and curious."
In case you're wondering, Lucy and Desi don't hibernate like bears in the wild. They have different diets depending on the time of year and are quieter and chubbier during the winter months. This means they're often visible during winter zoo visits.
Next time you visit the Magnetic Hill Zoo, be sure to say hi to Lucy and Desi for us!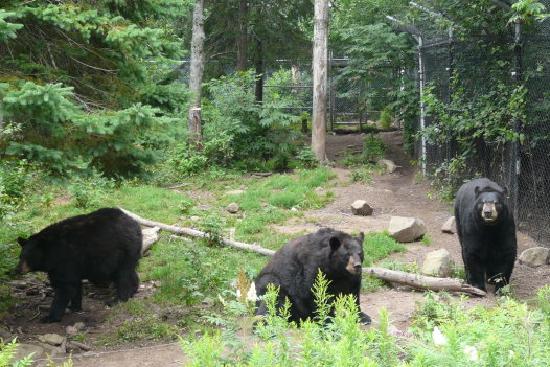 From left; Lucy, Gary and Desi.