Damage Claims
As shown below, any damage to areas in orange (electrical meter and service wire) will be repaired by NB Power. Damage to areas in grey (meter mast, meter base and service duct) are the responsibility of the homeowner and repairs must be made by a certified electrician prior to power being restored to the home.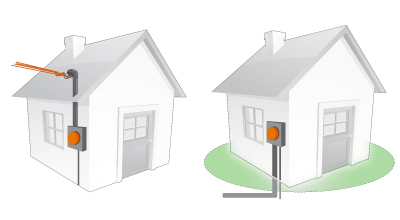 There are times when damage occurs to property or personal belongings due to circumstances that are beyond NB Power's control. These circumstances can include, and are not limited to;
a weather related event (i.e. storm);
an outage caused by an emergency (i.e. vehicle accident);
an outage caused by doing repairs, maintenance or upgrades of the existing facilities; or
an outage caused by third parties (i.e. plow trucks or dump trucks) or wildlife.
In these instances, NB Power is not responsible for any resulting damages. Per Section 93 of the New Brunswick Electricity Act, NB Power will not be liable for damages when caused by circumstances that are beyond the ability of NB Power to control by reasonable and practicable effort.
For all damages related to Water Heaters, please call our toll free number at 1-800-663-6272.
If none of the above applies to your situation, please complete a "Claim Submission" to continue with the process of submitting a damage claim. You have 60 days to submit your claim to NB Power following the date of an incident. Claims dated after this 60 day period may not be investigated.
In either case, please contact your Insurer to review eligibility for coverage.