The Town of Shediac's Multipurpose Centre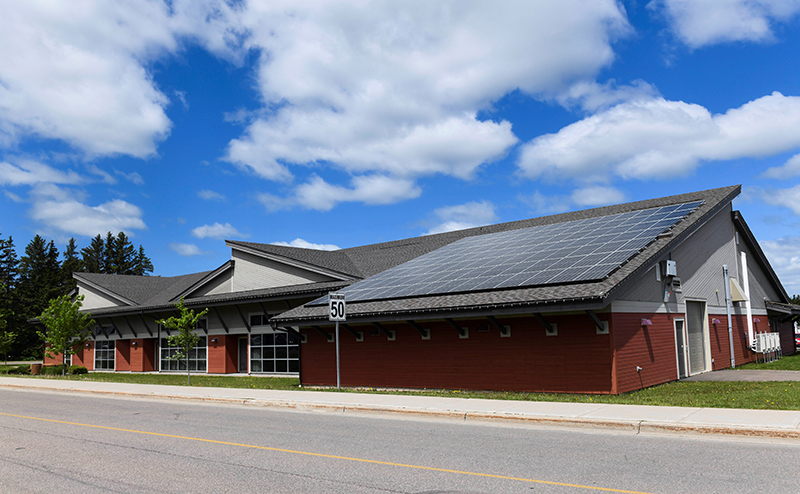 A cleaner, greener community resource
Converting the Shediac Multipurpose Centre to a net-zero building will bring new life to a valuable community gathering place and add to our understanding of how large commercial buildings can help with climate change goals by changing how they consume electricity.
The centre is a 1588.6 m2 building located at 58 Rue Festival and was constructed in 2011. It is a very important building for the town and its citizens, hosting community groups, businesses, individuals, and other organizations who use it for meetings, conferences, events, shows and celebrations.
The Multipurpose Centre, along with the Government of Canada Pension Centre, were identified as key buildings for smart grid related retrofits in the Town's 2017 Smart Grid Pilot Plan. This vision is now coming to life in the Shediac Smart Energy Community Project.
A 37.5 KW solar panel array will produce approximately 45,000 kWh of electricity annually to power the building (equivalent to heating two homes with baseboard electricity annually). A 74 kWh energy storage battery will store excess solar energy, with the Shediac Community Solar Farm also providing dedicated renewable energy to power the building.
The work on the Centre as part of the net-zero project includes energy efficiency and heating system upgrades and a new roof. The new smart energy technologies include solar panels on the south-facing roof and an energy storage battery outside the building.
Partners for this project include the Town of Shediac and the National Research Council of Canada (NRC).