The Town of Shediac's Multipurpose Centre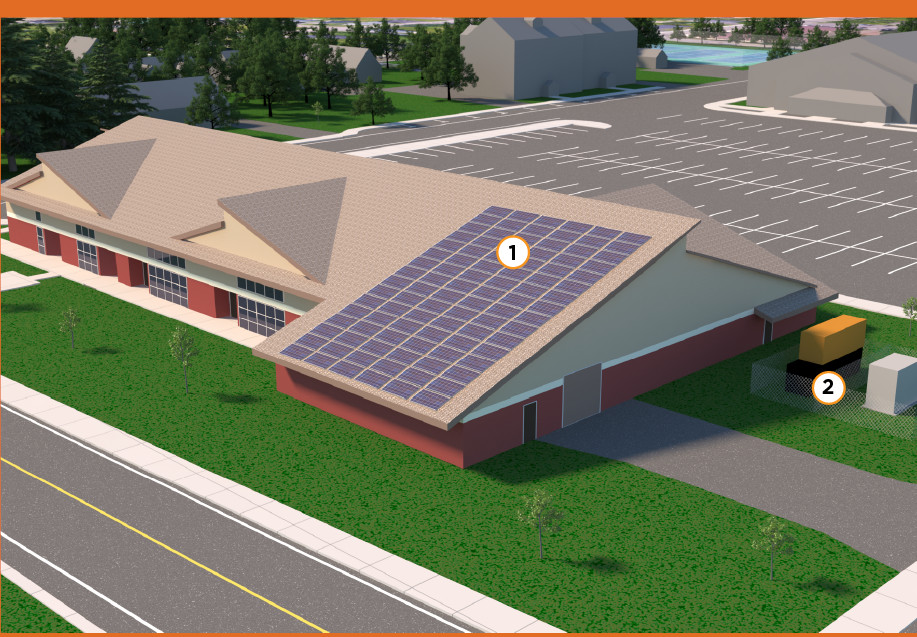 With solar energy from a roof-top system and a new community solar farm,the Multipurpose Centre will become 'net-zero' in 2021 as part of the Shediac Smart Energy Community Project!
A 37.5kW solar panel array will produce approximately 45,000kWh of electricity annually. This is equivalent to the annual energy used by two homes heated with electric baseboard.
A 74kWh energy storage battery will make the building more resilient and help store the solar energy to be used at other times of day. This is the amount of energy that 8 LED light bulbs consume if turned on for a month.
To help bring this building to net-zero work also includes roof replacement, energy efficiency upgrades, and modifications to the heating and cooling systems.
The Town of Shediac's Multipurpose Centre is a 17,100 ft² building located at 58 Rue Festival and constructed in 2011. It is a very important building for the town and its citizens – including community groups, businesses, individuals, and other organizations who use it for meetings, conferences, events, shows and celebrations. It even has an art gallery!
The Multipurpose Centre, along with the Government of Canada Pension Centre, were identified as key buildings for smart grid related retrofits in the Town's 2017 Smart Grid Pilot Plan. This pre-existing vision is now coming to life in the Shediac Smart Energy Community Project.
The work on the Centre as part of the net-zero project includes energy efficiency and heating system upgrades and a new roof. The new smart energy technologies include solar panels on the south-facing roof and an energy storage battery outside the building.
Current Status
Energy efficiency upgrades and roof replacement have been completed, the solar panels have been installed on the roof, the pad for the energy storage battery has been constructed, and the battery will be installed in the summer.