The Government of Canada Pension Centre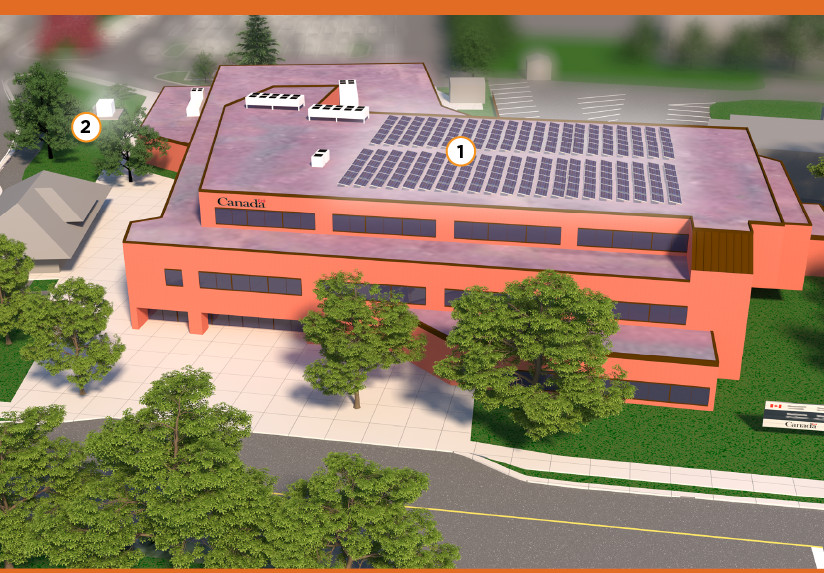 With solar energy from a roof-top system and a new community solar farm, the the Pension Centre will become 'net-zero' in 2022 as part of the Shediac Smart Energy Community Project!
A 75kW solar panel array will produce approximately 90,000kWh of electricity annually. This would be enough to power 4-5 New Brunswick homes for a year!
A 400kWh battery will make the building more resilient and help store the solar energy to be used at other times of day. This is the amount of energy a typical family of four uses each month for water heating!
The Government of Canada Pension Centre, a landmark building is located at 10 Weldon Street in Shediac. It was built in 1982 to become the centre of excellence in managing Canada's pension system for Public Service, military and RCMP members. It also manages pensions for retired Members of Parliament, Foreign Service personnel and federal judges.
This building houses approximately 400 employees (a third of the Pension Centre's workforce), is 6000 m2 on three floors, and is owned and managed by Public Services and Procurement Canada (PSPC). The Government of Canada is a global leader in government operations that are net-zero, resilient and green.
This smart energy project at the Pension Centre will see solar panels installed on the roof of the building, as well as a battery storage unit located outside the building. The electricity produced by the panels will power the building, with surplus directed to the battery storage unit to store this electricity for later use.
The building will participate in demand response (DR) research programs via a cloud-based Energy Systems Platform (ESP) developed by Siemens as part of Smart Grid Atlantic, and will also be outfitted with smart technologies such as a communications gateway signalling building controls, and the battery storage unit. NB Power will use these devices to help the grid at times of peak energy use and when forecasting high energy prices, by reducing or shifting electricity usage away from these time periods while not impacting the heating systems. This study will provide valuable research data for future design of these types of programs for commercial building owners.
The Pension Centre as a net-zero building will be operated with the goal of reducing the factors contributing to a changing climate. This is an excellent opportunity to help meet the Government of Canada's commitment to net-zero emissions by 2050.
Current Status
Material for solar panel installation is being mobilized with panel installation to begin in Spring 2021, and the battery storage unit will be installed in the summer.