Electric Vehicle Rebates
Rebates for battery-electric and plug-in hybrid vehicles
Get up to $10,000 in rebates 
You could qualify for rebates through both Plug-In NB (provincial) and the iZEV Program (federal). You can get up to $10,000 when these are combined! 
New and used battery electric and plug-in hybrid electric vehicles are eligible for rebates.

Dozens of electric vehicles qualify for rebates, including SUVs and vans. 
Government rebates are available directly through authorized EV dealerships when you buy your EV. Ask your dealer for details

 

Provincial rebates are available to New Brunswickers who buy or lease a qualifying new vehicle, or buy a used electric vehicle, at a licensed dealership in New Brunswick. Those who buy an eligible vehicle can also receive a rebate on the purchase and installation of a home charging station.

 
For more information, please see our Program Guidelines.
Rebates for EV home charging stations
Residents or organizations that receive a vehicle rebate through the Plug-In NB Rebate Program are eligible to claim 50% of the cost before taxes and fees to purchase and install one new level 2 EV charger, up to a maximum of $750.
For more information, please see our Program Guidelines.
Rebates are provided on a first-come, first-serve basis and will remain available until the program budget is exhausted or the program is terminated.
---
Find the EV that matches your lifestyle and budget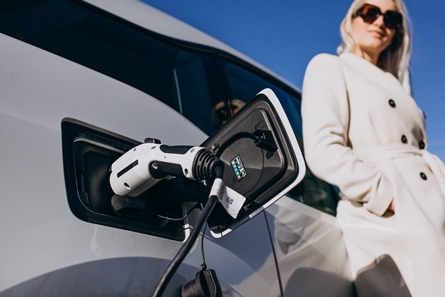 Calculate any eligible rebates, and how much you'll reduce your greenhouse gas emissions by switching to an EV.
Find your EV match on plugndrive.ca