Who we are
We're truly New Brunswick's Power company. We work hard every single day to provide consistent, safe, reliable and sustainable energy at the lowest possible cost. Why? Because we're New Brunswickers too.
Our more than 2,600 employees are dedicated to providing expert service and safe, reliable electricity at low and stable rates. The electricity we generate at our 13 facilities throughout New Brunswick is delivered via power lines, substations and terminals to more than 350,000 New Brunswick homes, businesses, hospitals and schools. We also export some of the electricity we generate to New England, Quebec, Nova Scotia and Prince Edward Island.
NB Power celebrates its 100th anniversary in 2020. The company has won numerous awards over the years for safety, employee engagement and leadership. Most recent awards include the Employee Recommended Workplace Award; Canada's Most Admired Corporate Culture Award, the CEA President's Award of Excellence for Employee Safety in our Generation and Nuclear divisions, National Workplace Inclusion Excellence Award, and Atlantic Canada's top 50 CEO's.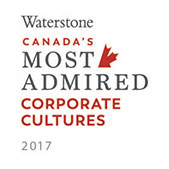 Recognized as one of Canada's Most Admired Corporate Cultures (2017) by Waterstone Human Capital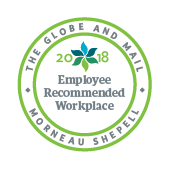 Recipient of 2018 Employee Recommended Workplace Award

National Workplace Inclusion Excellence Award Recipient