Tiny Homes, Big Community
December 21 2022, 11:30 AM
Over the past few years, tiny homes have become a popular housing solution around the world. With their lower costs and smaller footprint, these structures are helping to reshape communities. Tiny homes have become a social movement as people look to downsize and live a more sustainable lifestyle.
New Brunswick entrepreneur Marcel LeBrun has registered over 70 tiny homes in the New Home Energy Savings Program and has completed construction on 35 homes as of fall 2022. When Marcel first contacted our efficiency team, we knew this was a special project and we were very excited to be part of it.
"Marcel is a visionary, and these are the types of projects that will help us to reach our goal of cleaner energy for the future," said Lori Clark, President and CEO of NB Power, "we are very proud to partner with Marcel on this development."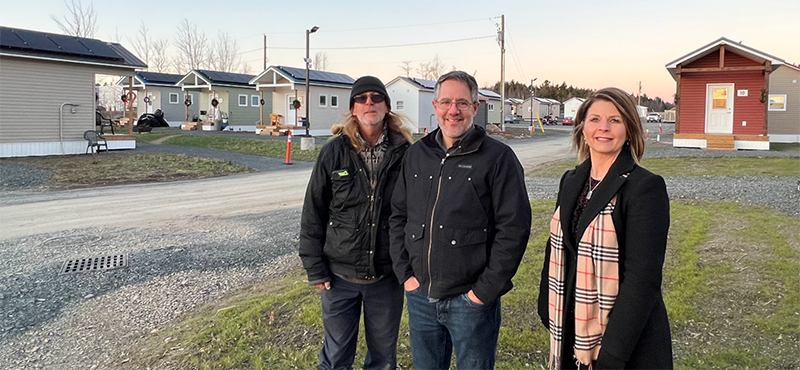 Left to right, 12 Neighbours Community Resident, Marcel LeBrun Founder, and Lori Clark President and CEO of NB Power
Our team gave Marcel energy efficiency kits, advice tailored to the unique energy needs of tiny homes, and $10,000 in incentives for each home. "It's incredibly rewarding to see this community take shape as a world-class example of what is possible when we create a space with dignified housing, a supportive community, and developmental opportunity. I'm very appreciative of NB Power for their guidance and support through the New Home Energy Savings Program," said Marcel LeBrun Founder of the 12 Neighbours Community.
The homes are approximately 240 square feet and have a bathroom, a full kitchen including a 2-burner induction stovetop and apartment sized fridge, cathedral ceilings, a covered front deck, and are equipped with energy efficient LED lighting. The new homes are airtight with a thermal envelope that is 105% better than code standards, with excellent ventilation through a heat-recovery ventilator (HRV). Each home has energy efficient features such as rigid insulation, which is one of the best tools to reduce energy costs, and triple glazed windows that reduce noise and deliver greater energy. Homes are equipped with 3.3 kW of solar panels, connecting approximately 30 homes to a 600 Amp service entrance resulting in a large distributed 100 kW solar array across each group of 30 homes, keeping within the Net Metering Policy.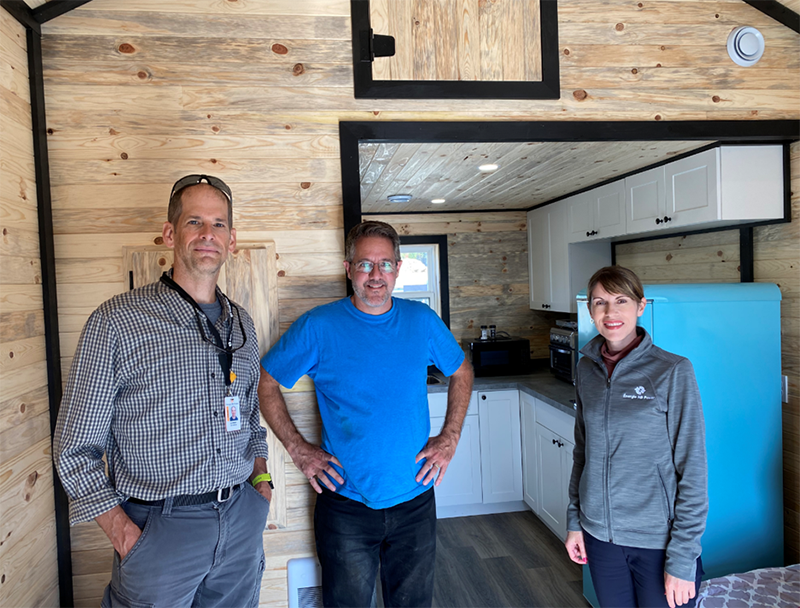 From left to right; Jeffrey St-Pierre, NB Power Technical Energy Advisor, Marcel Lebrun, 12 Neighbours Community Founder and Chairman, and Diane Spencer, NB Power Program Lead inside a tiny home.
Marcel is building more than just tiny homes. He is building a community. Everyone deserves safe, affordable, and permanent housing. Even more special is the vision for this community to see people overcome barriers to living a full and independent life. The community offers supports that help members achieve their personal goals, which may include substance use recovery counselling, opportunities to improve their health and education, and low barrier employment opportunities.
This community was a great opportunity for us at NB Power to learn from the vision of a local entrepreneur. We are very proud to partner with Marcel and are excited to watch this community grow and thrive. 
To learn more about the tiny home community visit 12neighbours.com.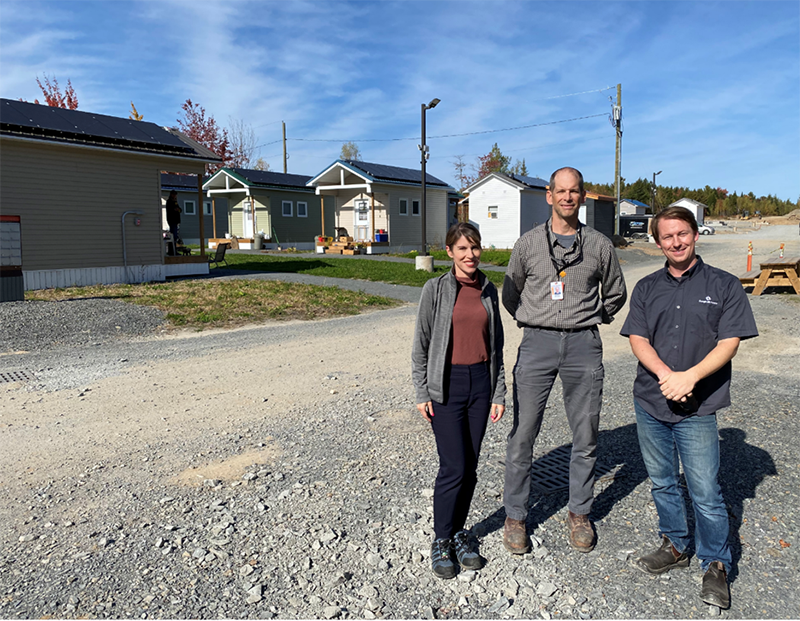 From left to right; Diane Spencer, NB Power Program Lead, Jeffrey St-Pierre, NB Power Technical Energy Advisor, and Miles Goff, Technical Energy Advisor in the 12 Neighbours Community.